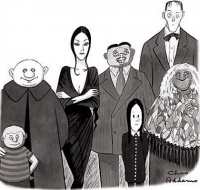 Tim Burton is reconnecting with Scott Alexander and Larry Karaszewski, the screenwriters who penned the director's Ed Wood, for two projects one of which is a stop-motion animated feature based on the ghoulish Addams Family. Burton is teaming with Chris Meledandri on the Addams Family film, which is based on the New Yorker cartoons of Charles Addams, which also inspired a popular TV series, a live-action movie, and a Broadway show. Burton, who created a mega-hit with his Alice in Wonderland, which was released in 3-D, plans to direct the stop-motion Addams Family movie in 3-D as well.
Burton of course has extensive experience with stop-motion. He produced the classic A Nightmare Before Christmas (1993), as well as James and the Giant Peach (1996) and produced and directed The Corpse Bride (2005). According to Deadline Hollywood, Meledandri and Burton are making the Addams Family movie for Illumination Films, the Universal-based family film unit that has scored a major hit this summer with Despicable Me.
The other project that Alexander and Karaszewski are working on with Burton is the story of Margaret Meade, who painted pictures of saucer-eyed children that defined "kitsch" in the mid-20th Century. Meade's husband Walter Keane signed all the pictures and took credit for his wife's work until their marriage ended in divorce and a famous court case to determine who exactly created the saccharine images that adorned thousands of weldwood-paneled family rooms in the benighted 1950s.