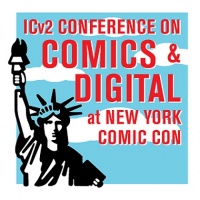 An ICv2 Release
. Both the process of selling comics and graphic novels and how they're created are being fundamentally transformed. To navigate this transformation, ICv2 is bringing together the best minds in the industry to discuss the lessons learned so far, where the business is going, and how to take advantage of the tremendous opportunities presented by digital distribution.
The event will be held at the Javits Center on October 7, the eve of New York Comic Con. For more information, see "
The ICv2 Comics & Digital Conference
."
Here are the speakers and moderators at the Conference.

Ted Adams
Adams is a founding partner of IDW Publishing and currently serves as the company's CEO. IDW has been at the forefront of the digital distribution of comic book content since 2009 when the company's titles were among the first titles available via iTunes. IDW comics are currently available on all major digital devices including iTunes, PSP, Nokia, BlackBerry, and Kindle.

Dave Baxter
Dave is Deputy Director USA of Robot Comics, an international mobile comics publisher specializing in building comic apps based around brands. He is also senior agent at Killing the Grizzly, an LA literary agency for graphic works. In the past, Dave has been a marketing specialist for Studio 407 and Spacedog Entertainment, as well as a comics journalist at
Broken Frontier
and
Comics Bulletin
.

Eric Beaulieu
Eric leads Transcontinental's Premedia division and is responsible for the group's strategic vision while managing its 400 technical, production and creative content specialists. Mandated to expand Premedia's wide array of digital-design services, Eric brings over twenty years of experience providing expert direction to the areas of high-end digital photography, book packaging, multi-platform delivery and technical integration services. As a young advertising agency graphic designer and avid comic book fan, éric discovered his passion for the graphic communications industry and has never looked back. He has had various corporate and operational roles--first in the Quebecor family of companies and now at Transcontinental. A seasoned professional, Eric speaks on a multitude of subjects at key industry events across North America and Europe.

Dave Bowen
Dave Bowen works on Diamond Comic Distributors web-dev team, with a focus on digital distribution. He's spent the last two years studying the evolution of digital comics, while helping revamp Diamond's web sites and web services. His technical background includes years with Hewlett-Packard and Compaq doing large scale e-commerce web development.

Alex de Campi
Alex de Campi fell in with a bad crowd (yuppies) early in life, and under their pernicious influence ran off to be an investment banker in Hong Kong. After a number of rather startling adventures across the underbelly of South Asia, she found herself in London a decade later, and decided to clean up and get a more socially-acceptable career. She thus became a comic book writer. Her first graphic novel,
Smoke
, was nominated for an Eisner, and she has also written several bande dessinée series for French publishers Humanoids, as well as girls' manga series for Tokyopop. She directs music videos and commercials, which you may see at
http://www.rsmcreative.com/directors/campi/

Dario Di Zanni
Dario Di Zanni is senior manager, marketing and business development, new media at Disney Publishing Worldwide. Dario was instrumental in the creation of Disney Digicomics, the first multi-language, multi-platform product to give fans an entirely new way to experience the vast Disney Comics catalog and archives. Dario continues to help develop new cross-media and transmedia initiatives which marry traditional publishing with its digital future.

David Gabriel
A native of Massachusetts and life long comic book fan, David Gabriel has never been too far from comics. While working for Bernstein Investment Management & Research, Gabriel dreamed of creating a mecca for comics, a dream that came to life in 1999 as he started the New York City Comic Book Museum. Then in 2003, Gabriel joined Marvel and revolutionized their trade paperback program, quickly ascending to the position of SVP, Sales & Circulation, in 2007. He now oversees not only sales for the Direct Market, Book Market, Newsstand and Subscription Services, but now also plays an integral role in the development of digital comics sales & distribution.

Milton Griepp
Milton Griepp is the founder and President of ICv2, since 2001 the undisputed industry authority on the graphic novel and comic business. He is a 35-year veteran of the pop culture business, and has managed companies that have sold over $1 billion in retail value of pop culture products as CEO of Capital City Distribution and Next Planet Over.

Alison Hendon
Alison Hendon buys all the young adult books (including graphic novels) for the Brooklyn Public Library system. As she often says, "If I like a book, I buy 60 copies. If I really like it, I buy 120." Since adding graphic novels to the collection, the YA circulation has increased every year, and went over 1,000,000 last year. She has served on several ALA committees including Best Books for the College Bound, Popular Paperbacks For Young Adults, the Michael Printz Award, and the William Morris Award.

Rantz A. Hoseley
Rantz founded LongBox, Inc. in 2007 due to the vast divide the CEO saw between the current state of the comic industry, and when he began creating comics in 1987. Believing that the long-term growth of comics as both an art form and industry is critical, the Eisner & Harvey award winner designed LongBox Digital as a channel to reach a larger international audience for current titles, while giving creators and publishers the tools & infrastructure to create new comics designed to leverage the unique capabilities of digital.

Lindsey Levinsohn
Lindsey is an expert librarian and trained collection development specialist at OverDrive. She consults with OverDrive partner libraries and schools on eBook selection for opening day collections, strategic budget and collection planning, and she works with publishers on promotions and special offerings. She works directly with hundreds of adult, YA and children's collection development librarians to develop their eBook and digital media catalogs. Lindsey also authors
ContentWire
-- a newsletter read by over 16,000 librarians. Lindsey is excited to be participating in this panel to discuss comics in the digital space and how libraries can become an important distribution channel.

Heidi MacDonald
Heidi MacDonald is an award-winning pop culture writer and editor. Her website,
The Beat
, delivers daily news, commentary, humor and insight covering the world of comic books and was named one of the 100 Best Websites by
Entertainment Weekly
. As a comics editor she has worked on every character from
Mickey Mouse
to
Y: The Last Man
and her writing has appeared in the
LA Weekly
,
New York Magazine
and
Publishers Weekly
.

Michael Murphey
Michael Murphey is the founder and CEO of iVerse Media, LLC. Michael entered digital publishing in 2005, and founded iVerse in July of 2008. Since the company's first release in November 2008, more than 2.5 million applications that are powered by iVerse have been downloaded from Apple's iTunes App Store.

Calvin Reid
Calvin Reid is a senior news editor at
Publishers Weekly
with responsibility for comics and graphic novel coverage. He is also co-editor, along with Heidi MacDonald, of
PW Comics Week
, the magazine's weekly e-mail comics newsletter.

Ron Richards
Ron Richards is the co-founder of iFanboy.com, which was acquired by Graphic.ly in early 2010, after 10 years of providing comics criticism, journalism and a vibrant community. Richards now works with Graphic.ly to help usher comic books into the digital age & foster community enjoyment of comics. He also is the creator and co-host of AppJudgment on Revision3, a mobile application review Internet television show. Richards passion for technology and comic books has led him to a unique position in both industries.

John Riley
John Riley has been the owner of Grasshopper's Comics in Williston Park, NY since 1992, a comics/game hybrid store. John has an MBA from the Harriman School and has been both a Management Training Consultant to some of the nations top financial services firms as well as a Business Consultant to small businesses on Long Island while working for the SBA.

Masaaki Shimizu
Masaaki Shimizu is a General Manager of International Business Strategy Division at Bitway Co., Ltd., the first company that introduced mobile Manga service in Japan in 2003. His current mission is to develop digital Manga services outside of Japan. Mr. Shimizu has a broad-based background in the digital media business development field, including Mobile Internet, PC Internet, Packaged Media, and Digital Satellite Broadcasting. Mr. Shimizu holds an MBA from University of Southern California.

Mark Siegel
Mark Siegel is the Editorial Director of First Second Books, Macmillan's graphic novel imprint, and the editorial home of Gene Yang, Paul Pope, Scott McCloud, Sara Varon, Aaron Renier and many other top comics talent. First Second's recent jump into webcomics comes under the form of "TBC," or "To Be Continued"--a web magazine that hosts a number of graphic novels serializing for free, online, and ahead of book publication.

David Steinberger
David Steinberger co-founded comiXology in 2007 as a grad student at NYU. Long time comic fan and passionate entrepreneur, David's inspiration for comiXology came from participating in NYU | Stern's 2007 Business Plan competition. David continues to believe developing a community is the best motivation for innovation, which has been the driving force behind comiXology's alternative direction. David Steinberger holds an MBA from NYU | Stern, a Masters degree from Manhattan School of Music, and an Advanced Certificate from Juilliard.

Mark Waid
Mark Waid, CCO of BOOM! Studios, has been in comics over 25 years and has worked for every major publisher in every capacity. Recently, he's become a strong and vocal advocate for embracing new, and sometimes controversial, media-sharing technologies to promote the industry and its work.

Douglas Wolk
Douglas Wolk is the author of
Reading Comics: How Graphic Novels Work and What They Mean
, and writes regularly about comics and graphic novels for Techland.com, the
New York Times Book Review
,
Publishers Weekly
, the
Believer
and elsewhere. He is a 2010 USC Annenberg/Getty Arts Journalism Fellow.
More are being added regularly--check back here!