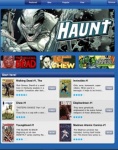 Image Comics and ComiXology have launched a dedicated Image Comics application which is now available at the iTunes site for downloading comics to the iPhone, iPad, and iPod Touch. Image's titles have been available via Comixology's Comics app for some time, but now Image joins Marvel, DC, and BOOM! Studios by releasing a dedicated app, which is based on technology from ComiXology (ComiXology has also created a dedicated Scott Pilgrim comics app).
The Image Comic app is a free download that acts like an online catalog for Image releases. The app includes titles from Top Cow, Robert Kirkman's Skybound imprint as well as Shadowline. It appears that there are over 60 Image comic book series available, including Chew, Elephantman, The Walking Dead, Youngblood, Wanted, Savage Dragon, Invincible, Haunt, and Jack Staff. Consumers can sign up for push notification whenever new issues in a series that they are interested in become available.
There appear to be more than 30 issues available for free as sampler offerings to interest new readers. Individual issues from ongoing series are priced at $1.99. Select trade paperback collections such as Invincible Vol.1 are available for $4.99.