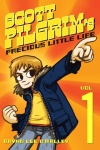 The grosses for Edgar Wright's Scott Pilgrim vs. The World have disappointed Universal, but the film helped drive sales of the six Bryan Lee O'Malley Scott Pilgrim graphic novels to the top six spots on Nielsen's BookScan survey of graphic novels sold in bookstores in August. Interestingly it was the first volume in the series, Scott Pilgrim's Precious Little Life rather than the just released sixth volume in the series that sold the most copies indicating that the movie was spurring interest from new readers.

Moving up fast was Robert Kirkman's The Walking Dead Vol. 12: Life Among Them, which grabbed the second spot. Look for The Walking Dead to have a presence on this list for months to come as the AMC TV series based on the zombie epic is due to premiere on Halloween (see "The Walking Dead on Halloween"). Another media-driven title Mark Millar and John Romita Jr.'s Kick-Ass HC returned to the list at #13 due to the very successful DVD release of the movie adaptation of the controversial comic.
BookScan Top 20 Graphic Novels in August 2010

Rank

Title

Author

Publisher

1

SCOTT PILGRIM VOL. 1

BRYAN LEE O'MALLEY

ONI PRESS

2

SCOTT PILGRIM VOL. 6

BRYAN LEE O'MALLEY

ONI PRESS

3

SCOTT PILGRIM VOL. 2

BRYAN LEE O'MALLEY

ONI PRESS

4

SCOTT PILGRIM VOL. 3

BRYAN LEE O'MALLEY

ONI PRESS

5

SCOTT PILGRIM VOL. 4

BRYAN LEE O'MALLEY

ONI PRESS

6

SCOTT PILGRIM VOL. 5

BRYAN LEE O'MALLEY

ONI PRESS

7

THE WALKING DEAD VOL. 12

ROBERT KIRKMAN

IMAGE COMICS

8

MAXIMUM RIDE: THE MANGA VOL. 3

JAMES PATTERSON

YEN PRESS

9

ROSARIO+VAMPIRE SEASON II VOL. 2

AKISHISA IKEDA

VIZ MEDIA

10

BLACK BIRD VOL. 5

KANOKO SAKURAKOJI

VIZ MEDIA

11

NARUTO VOL. 48

MASASHI KISHIMOTO

VIZ MEDIA

12

BLACKEST NIGHT HC

GEOFF JOHNS

DC COMICS

13

KICK ASS HC

MARK MILLAR

MARVEL COMICS

14

BAKUMAN VOL. 1

TSUGUMI OHBA

VIZ MEDIA

15

NEGIMA! VOL. 27

KEN AKAMATSU

DEL REY BOOKS

16

TROUBLEMAKER BOOK 1 HC

JANET EVANOVICH

DARK HORSE

17

FULLMETAL ALCHEMIST VOL. 23

HIROMU ARAKAWA

VIZ MEDIA

18

COLOR BLEACH+: THE BLEACH OFFICIAL BOOTLEG

TITE KUBO

VIZ MEDIA

19

JIM HENSON'S RETURN TO LABYRINTH VOL. 4

JAKE T. FORBES

TOKYOPOP

20

D.GRAY-MAN VOL. 18

KATSURA HOSHINO

VIZ MEDIA
DC's Blackest Night hardcover remains on the list for a second straight month, an impressive feat for a comic crossover event, while Dark Horse's Troublemaker Book 1, which is written by best-selling mystery scribe Janet Evanovich, also celebrated its second straight month in the Top 20.
With ten titles in the Top 20, manga fared better in August than it did in July, when there were only six manga represented, though it should be noted that the highest ranking manga title was at #8. Two of the ten manga are OEL (Original English Language) titles, the new volume of the Yen Press manga adaptation of James Patterson's popular Maximum Ride YA series, and the latest volume in Jake Forbes' series based on Jim Henson's Return to Labyrinth from Tokyopop.
Viz Media's Bakumen, the new series from Death Note creators Tsugumi Ohba and Takeshi Obata, debuted strongly at #14, joining other relatively new series Black Bird and Rosario & Vampire II on the list. Manga stalwarts Naruto, Negima!, Full Metal Alchemist, Bleach, and D. Gray-Man also made the Top 20.

For charts from previous months, see the "BookScan Top 20 GNs Index."