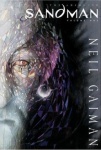 No one ever accused Hollywood of being original, but it appears that studios are jumping on the bandwagon these days before there even is a bandwagon. With Frank Darabont's adaptation of The Walking Dead getting a second season two months before the first episode even airs (see "The Walking Dead Gets a Second Season"), the other networks are clearly jealous of all that horror comic mojo that AMC has got, even if they haven't really seen it yet. Fox just gave Dreamworks a "season commitment" for a series based on Joe Hill's horror comic from IDW Locke & Key (see "Fox Picks Up 'Locke & Key'). Now comes word that Warner Bros. TV is acquiring the rights to Neil Gaiman's Sandman from sister company DC Comics. What no Witching Hour, no House of Mystery, no Weird Mystery Tales, no House of Secrets?
Like Locke & Key, Sandman was originally seen by the studios as a potential feature film, in fact it has been "in development" as a feature since the 1990s. Recently there has been talk about a Sandman series on HBO, but now Warner Bros. TV appears to be intent on keeping the property at home. According to The Hollywood Reporter, the powers at WB TV have been talking to producer Eric Kripke, creator of the CW's Supernatural with the hope that he will decide to shepherd The Sandman to the small screen.
Of course Gaiman's
The Sandman
is more of a dark fantasy saga than a straight horror title, but do you think those network dudes know the difference?
Well you can be sure that
they do know that Gaiman's
Sandman
graphic novel collections are perennial bestsellers and have developed a large and devoted following.