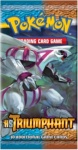 Pokemon USA has announced the November 3rd release of the Pokemon Trading Card Game: HS-Triumphant Expansion. With more than 100 new cards, the Pokemon TCG: HS-Triumphant Expansion is perfect for both beginning and intermediate players. The 10-card Booster Packs have an MSRP of $3.79, while the Theme Decks retail for $12.99.
In the Triumphant Expansion legendary Pokemon return in pairs as Legend cards including Dialga & Palkia and Darkrai & Cresselia. Machamp, Gengar, and half a dozen other powerful Pokemon appear for the first time as Pokemon Prime Cards. New Trainer, Supporter, and Stadium cards, plus a new Special Energy card provide players with all sorts of new strategic options and deck-building ideas.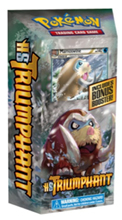 The two new
Theme Decks
,
Verdant Frost
and
Royal Guard
, come in colorful holographically-enhanced packaging, and each
Theme Deck
is guaranteed to come with a foil card and a bonus
Booster Pack
.