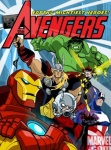 The new Marvel-based animated series, The Avengers: Earth's Mightiest Heroes debuts on the Disney XD cable channel on October 20th at 8:30 pm (ET, PT) with two back-to-back episodes. The Avengers: Earth's Mightiest Heroes features Iron Man, Thor, Captain America, The Hulk, Ant-Man/Giant Man, and Wasp (see "Avengers Series on Disney XD").
Superherohype has detailed a marketing rollout of 20 micro-episodes introducing the team's core members. The first of the micro-episodes debuts on Wednesday, September 22nd on Disney XD, DisneyXD.com/Avengers, Marvel.com, MarvelKids.com, and Disney XDMobile. Each five-and-one-half minute micro-episode details the backstory of one the Avengers including the character's allies and enemies from the era before the Avengers team was formed.
Marvel is launching a new all-ages comic book series based on the animated Avengers series in November (see "Avengers Earth's Mightiest Heroes").