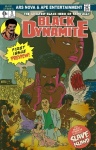 Ars Nova and Ape Entertainment have announced an early 2011 release date for Black Dynamite: Slave Island, a one-shot comic book featuring the retro 1960s-style black action hero from the 2009 cult movie Black Dynamite as he journeys to an island where slavery still exists.
"Fans of the film will be right at home with the comic," states Ape Entertainment founder and co-publisher Brent E. Erwin. "It has all the elements that made the movie a cultural phenomenon, and Black Dynamite himself is still as much of a bad dude on the page as he is on the screen."
At the upcoming New York Comic Con, Ape Entertainment will hold a screening of Black Dynamite on Saturday October 9th which will followed by a question and answer session where clips from the upcoming Black Dynamite: The Animated Series will be shown. All attendees will receive a limited preview edition of Black Dynamite: Slave Island.
Black Dynamite: Slave Island is based on a story by Michael Jai White, the star of the film, Byron Minns and Scott Sanders, and is written by Brian Ash with pencils by Jun Lofamia. The 48-page one-shot is due in stores in early 2011.