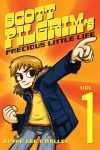 Bryan Lee O'Malley's Scott Pilgrim graphic novels from Oni Press continued to dominate sales of graphic novels in bookstores in September. While Edgar Wright's Scott Pilgrim vs. the World movie, which opened on August 13th, was something of a box office disappointment earning $31.5 million versus a cost of nearly $60 million, it has spurred strong continuing sales of six Scott Pilgrim graphic novels in the bookstore market. In September as the Scott Pilgrim movie slinked out of the cineplexes, the Scott Pilgrim GNs took six of the top seven spots, and it is worth noting that the first volume in the series was the top seller, indicating that new readers are discovering the series.


BookScan Top 20 Graphic Novels in September 2010

Rank

Title

Author

Publisher

1

SCOTT PILGRIM VOL. 1

BRYAN LEE O'MALLEY

ONI PRESS

2

THE EXILE: AN OUTLANDER GN HC

DIANA GABALDON

DEL REY

3

SCOTT PILGRIM VOL. 2

BRYAN LEE O'MALLEY

ONI PRESS

4

SCOTT PILGRIM VOL. 3

BRYAN LEE O'MALLEY

ONI PRESS

5

SCOTT PILGRIM VOL. 4

BRYAN LEE O'MALLEY

ONI PRESS

6

SCOTT PILGRIM VOL. 6

BRYAN LEE O'MALLEY

ONI PRESS

7

SCOTT PILGRIM VOL. 5

BRYAN LEE O'MALLEY

ONI PRESS

8

BLEACH VOL. 32

TITE KUBO

VIZ MEDIA

9

MAXIMUM RIDE: THE MANGA VOL. 3

JAMES PATTERSON

YEN PRESS

10

ALICE IN THE COUNTRY OF HEARTS VOL. 4

QUINROSE

TOKYOPOP

11

HETALIA AXIS POWERS VOL. 1

HIDEKAZ HIMARUYA

TOKYOPOP

12

THE WALKING DEAD VOL. 12

ROBERT KIRKMAN

IMAGE COMICS

13

TROUBLEMAKER BOOK 1 HC

JANET EVANOVICH

DARK HORSE COMICS

14

NARUTO VOL. 49

MASASHI KISHIMOTO

VIZ MEDIA

15

THE WALKING DEAD VOL. 1

ROBERT KIRKMAN

IMAGE COMICS

16

DARK TOWER: THE BATTLE OF JERICHO HILL HC

ROBIN FURTH

MARVEL COMICS

17

BLACKEST NIGHT HC

GEOFF JOHNS

DC COMICS

18

NARUTO VOL. 49

MASASHI KISHIMOTO

VIZ MEDIA

19

WATCHMEN TP

ALAN MOORE

DC COMICS

20

KICK ASS HC

MARK MILLAR

MARVEL COMICS
The title that prevented Scott Pilgrim from scoring a second consecutive monthly sweep was Del Rey's Exile, a loosely-based adaptation of the first novel in Diana Gabaldon's Outlander series, which debuted powerfully in the #2 spot in September. The genre-melding Outlander series, which combines elements of science fiction (time travel), historical fiction, romance, and fantasy, has been a huge mainstream success, and the strong debut of Del Rey's Exile once again validates the concept of creating graphic novels based on proven prose bestsellers. With Kodansha now releasing its own manga titles in the U.S. (see "Kodansha to Shift U.S. Titles"), it appears that Del Rey, which has also had considerable success with its Dean Koontz' Odd Thomas releases, is well on its way to implementing an alternate strategy of creating its own projects based on existing literary properties in order to keep its share of the graphic novel market.
Another bestseller-based graphic novel property Janet Evanovich's Troublemaker, Book 1 from Dark Horse remains on the list for the third straight month. Note that two volumes of Robert Kirkman's The Walking Dead made the list in September, the most recent release, Vol. 12 Life Among Them, and the first book in the series, Days Gone Bye, a sure indication that plenty of new readers are gravitating to the series as publicity for the Halloween debut of The Walking Dead TV series on AMC builds to a crescendo.
Other non-manga titles on the list include the latest volume of Marvel's series based on Steven King's The Dark Tower, DC's potent "event" title Blackest Night and its perennial powerhouse Watchmen, plus Mark Millar's Kick-Ass from Marvel, which made the Top 20 for the second straight month in the wake of the release of the DVD of the film.
Tite Kubo's Bleach Vol. 32 from Viz Media was the top manga title at #8 followed closely by Yen Press' OEL manga adaptation of James Patterson's Maximum Ride, at # 9. Tokyopop grabbed the next two spots with its potent Alice in the Country of Hearts release and the debut of the cult favorite Hetalia: Axis Powers. The fact that Hetalia did so well in spite of its September 21st debut indicates that this property has considerable potential. Two volumes of Viz Media's Naruto also made the list at #14 and #17. With just six titles (five of which are original Japanese manga), manga's presence on this list matches its all-time low in July.