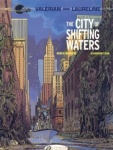 Valerian and Laureline Vol. 1: The City of Shifting Waters GN
Publisher: Cinebook Ltd.
Release Date: October 16, 2010
Price: $11.95
Creator: Jean-Claude Mezieres and Pierre Christin
Format: 48 pgs.; Full-Color; Trade Paperback
ISBN: 978-1-8491-8038-2
Age Rating: Young Adult
ICv2 Rating: 4 Stars out of 5
Valerian and Laureline are agents of the Spatio-Temporal Service who travel through both time and space to protect their 28th century Terran Empire from time paradoxes perpetrated by rogue time travelers. Together they pursue the criminal Xombul to Earth in the year 1986 where they struggle to survive in a ecologically devastated New York City.
Although several volumes of Pierre Christin and Jean-Claude Mezieres'
Valerian
have been published in America over the years no one has ever published this long running, highly influential French SF series from the beginning. Cinebook has done it's fans a service by doing just that, though there are some things in the first volume that they'll have to get used to.
It's a series noted for it's sophisticated plots and artwork but
The City of Shifting Waters
is quite a bit different from the later volumes. For one thing it has a fairly simple lot (the villain is a standard evil scientist; he even has a shrink ray) and the art is much more cartoony style, looking like something between
Lucky Luke
and Jack Davis of
Mad Magazine
(one character is drawn to look like a caricature of Jerry Lewis as the
Nutty Professor
).
But both veterans and newcomers will find a lot to enjoy here. Even at the very beginning of the series Valerian and Laureline's personalities are sharply delineated and it's fun watching them play off each other. And though the plot may be simple the story is full of beautifully staged action sequences and has a well realized semi-submerged NYC as a backdrop.
--
Steve Bennett: Writer and retail services consultant.