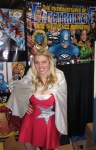 New York Comic Con crowds were smaller on Sunday than on Saturday, but still filled the building to every corner.
She's costumed as a member of the Perfect Four, promoting The Misadventures of Electrolyte and the Justice Purveyors.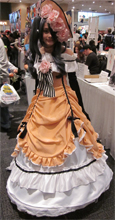 Fans are excited about the upcoming
Thor
movie.

Looks like she's with Mary Jane.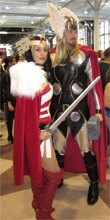 Some of the anime cosplayers had very elaborate costumes.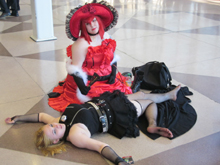 And some just laid it all out there.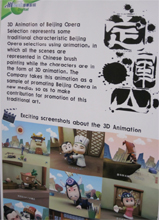 The international presence at the show grew this year, with a major presence by KOCCA (promoting Korean content) and for the Tianjin Hi-tech Digital Technology Company from
China
.
Videogame exhibit space had doubled since the last show, including a major presence for
Dead Space
2.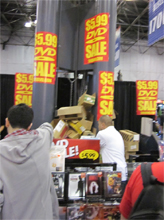 There was a lot of sponsorship and booth promotion of upcoming DVDs (such as
Scott Pilgrim
) at the show, but this $5.99 booth may have better displayed the state of the DVD biz.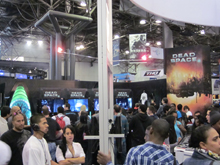 The
Green Hornet
display was one of a number of set-ups that made the 3000-mile trip from
San Diego
to
New York
; the
Aliens
attraction was another.
See also New York Comic Con Photos—Part 1
See also New York Comic Con Photos—Part 2