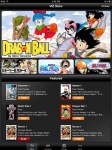 Viz Media has launched the free Viz Manga App for the iPad, offering six key manga series at $4.99 for in-app sales, 35-50% below the retail price for Viz paper editions. The series are Bleach, Death Note, Dragon Ball, Naruto, One Piece, and Bakuman. The offerings are limited: the first volumes of Dragon Ball and Bakuman, and the first two volumes of Bleach, Death Note, Naruto and One Piece.
Around 60 pages of each series are available free as a sample except for Death Note, which has all of Volume 1 available free for a limited time.
Viz developed the app itself, and did not work with any of the existing companies such as Comixology, iVerse, or Graphic.ly. The reading experience goes from right to left; pages in the Viz Manga App turn from the left. There is no "guided view" allowing panel-to-panel navigation (perhaps why the app was only released for the iPad and not the iPhone), although on the iPad that's not a problem because a manga page as viewed is about the same size as it is in a book.
More volumes and previews will be added weekly, with Ouran High School Host Club planned as the first addition next week.