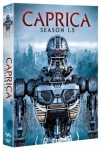 The final five episodes of Battlestar Galactica spinoff Caprica, which have not yet aired on Syfy (see "Caprica Canceled"), will get their first release on DVD in the Season 1.5 DVD set due out December 21st.
Extras on the three DVD set will include a Season 1.0 recap; seven video blogs; podcasts with director David Eick and season stars Eric Stoltz, Magda Apanowicz, Esai Morales, and Sasha Roiz; and feature episode commentary with executive producer Kevin Murphy.
MSRP will be $49.98.
Syfy is expected to air the episodes at some point, but has not scheduled them to date, so for now, fans will have to buy the DVD to get the rest of the season.