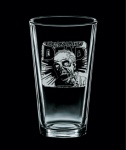 Taverncraft has acquired a license from Robert Kirkman's Skybound Entertainment to produce a line of collectable merchandise based on the Walking Dead graphic novels. First up will be deep-etched pint glasses and steins, available now, followed by premium enamel-chrome lighters, shipping in January.
The pint glasses are packaged in two-glass sets at a $29.99 MSRP. Set 1 includes "Fresh Meat" and "Rise & Feed;" Set 2 includes "Dead Head" and "Dead Rules." Individually packed 25 oz. glass steins feature the same designs at $29.99 per stein.

The lighters come packed in a collectible gift box, at $19.99.