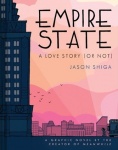 Empire State: A Love Story (or Not) HC
Publisher: Abrams ComicArts
Release Date: May 2011
Price: $17.95
Creator: Jason Shiga
Format: 144 pgs.; Hardcover
ISBN: 978-0-8109-9747-9
Age Rating: Older Teen/Adults
ICv2 Rating: 3 Stars out of 5
Jason Shiga, whose previous book
Meanwhile
is delighting and confusing kids across the nation, has come up with a quiet, introspective graphic work for adults.
Jimmy is a techno geek, at least in his own mind. His skills really aren't as great as he thinks, based on what little is shown. He has no particular ambition, no goals, and not much of a life. His longtime friend Sara has moved to New York to try to break into the publishing industry. Missing her, he breaks out of his stupor long enough to travel across the country for a visit.
Interspersed are flashback sequences, which are quite jarring until the reader realizes that the artist color-coded the flashbacks and the current day scenes by their background color. Shiga's artwork is an acquired taste, but his sense of design is worth a look, especially his cartoony abridgement of New York.
It's easy to feel sorry for Jimmy in some ways, but difficult in other ways, as his problems seem to be of his own making. Sara is slightly jaded and slightly clueless.
Not everyone will like this book, but it's a thoughtful and different approach to the idea of an educated "slacker" who has never chosen to move forward in life.
For adults and older teens, due to the writing style.
--
Nick Smith: Librarian Technician, Community Services, for the Pasadena Public Library in California.