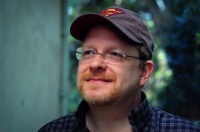 Mark Waid is leaving his post as Chief Creative Officer of BOOM! Studios, the company announced today. Waid will continue to write three titles, Irredeemable, Incorruptible, and The Traveller (with Stan Lee), for BOOM! in a freelance capacity.
BOOM! CEO Ross Richie wished Waid well. "Mark was key in BOOM!'s transition from a promising upstart to top tier publisher," he said. "Now that we've reached this stage, Mark's made it clear to me that he's ready to take on new challenges. And we wish him the best!"
BOOM! announced Waid's CCO role at Comic-Con this year (see "BOOM! Studios Promotes Mark Waid to CCO"). He joined the company as Editor-in-Chief in 2007 (see "Mark Waid Named EIC").
Matt Gagnon, who was promoted to EIC when Waid took on the CCO role last summer, will continue in the EIC role.