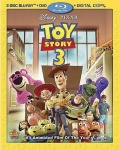 Severely hurt in the deep recession year of 2009, the home entertainment industry bounced back somewhat in 2010. Nearly half a million Blu-ray players were sold on the past Black Friday alone, and sales of Blu-ray discs were up 80% over last year, but it wasn't enough to balance a 12% decline in DVD sales through the first 3 quarters of 2010. Also, with a few notable exceptions it is clear that 2010 was not exactly a vintage year for Hollywood. Attendance at theaters was down though box office dollars were up thanks to higher ticket prices and the extra premium theater owners were able to charge for 3-D movies.
However, with the exception of Avatar (which was released in 2009, but did the majority of its business in 2010), few of the 3-D offerings used the extra dimension with creativity, and many of the "3-D" movies in 2010 were actually shot conventionally and then had 3-D effects added post-production via computers.
3-D is heading to home entertainment with the first generation of TVs in stores now, but the future of extra-dimensional TV remains murky pending the prefection of sets that don't require glasses. But 2010 did witness the the increasing dominance of the Blu-ray format with its sharper high definition picture, advanced audio formats, and far great overall capacity. In 2010 Blu-ray became the prime "collector's medium" as studios are in many cases foregoing the production of the 2-disc conventional collector's edition DVD in favor of the Blu-ray version, which can typically pack all those features and more on a single disc. For cutting edge movies like Christopher Nolan's Inception, which was released in December, Blu-rays now represent 65% of sales, and the hi-def format dominates this year's ICv2 "10 Best" lists.
Here, based on both the quality of the content and the effectiveness of the home entertainment presentation, are ICv2's picks for the Top Ten releases of 2010. In addition to the overall list in which theatrical movies predominate, ICv2 has also included a list of the 10 bestselling DVDs of 2010 as determined by numbers.com as well as "Ten Best" lists for the other major categories covered in ICv2's weekly DVD Round-Up columns, "Anime," "TV on DVD," and "Classic Films."
ICv2's Ten Best Home Entertainment Releases of 2010
1. Toy Story 3 Four-Disc Blu-ray Combo Pack (Disney) It's rare that a sequel is better than its predecessors, but with the Toy Story series Pixar has managed the extremely difficult feat of topping itself with each new entry in the franchise. The superb first Toy Story film established Pixar at the cutting edge of Hollywood animation, and Toy Story 3 demonstrates that the studio is still in the lead by a large margin. The superb TS3 BD package includes an entire Blu-ray disc of extras.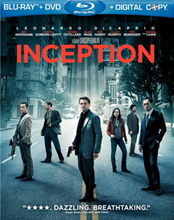 2.
Inception Blu-ray
(Warner Bros.) Christopher Nolan's original science fiction saga was the surprise hit of 2010 earning over $800 million at the worldwide box office.
This complex, multi-layered cinematic dreamscape is not for everyone, but it's hard to find fault with the film's impeccable Blu-ray presentation.
3. Ponyo Blu-ray (Disney) Ponyo is not among Miyazaki's best films, but medium-grade Miyazaki is still better than almost anything else that made it to theaters in 2010.
4. Scott Pilgrim vs. the World Blu-ray Combo Pack (Universal) Edgar Wright's adaptation of Bryan Lee O'Malley's Scott Pilgrim graphic novels was the victim of a poorly orchestrated publicity campaign, but then how does a studio market an alt-rock comedy/musical/romance/martial arts/video game movie? Once again the BD edition totally rocks with great features demonstrating how O'Malley's manga-influenced graphic novels were faithfully and creatively transferred to the screen.
5. The Town Extended Cut Blu-Ray (Warner Bros.) Ben Affleck's sophomore directorial effort proves that Gone Baby, Gone was no fluke. This character-rich heist movie was hands down the best genre film of 2010.
6. Up in the Air Blu-ray (Paramount) Jason Reitman's Up in the Air hit theaters in 2009, but was released on DVD in March of 2010. In years to come critics and historians will have a hard time finding a film that reveals more about contemporary society—how, for example, airlines have created a "class system" in the air and the casual cruelty of corporate "downsizing" during a major recession.
7. Zombieland Blu-ray (Sony) The best horror film (and one of the best comedies) of 2010, Zombieland features solid performances from two of the best young actors in Hollywood (Jesse Eisenberg and Emma Stone) as well as stand-out turn from veteran Woody Harreleson.
8. Alice in Wonderland Blu-ray (Disney) Tim Burton's idiosyncratic adaptation of the Lewis Carroll classic looks just as good in two dimensions on Blu-ray as it did in theaters in post-production-added 3-D.
9. Avatar 3-Disc Extended Collector's Edition Blu-ray (Fox) It is difficult to ignore this title, but with two home entertainment releases so far (and still no 3-D version), it's also hard to recommend it without appearing to approve of the studio's shameless double-dipping.
10. The Secret in Their Eyes Blu-ray (Sony) This Oscar-winning foreign film from Argentina works on a lot of different levels, as a cold-case murder mystery, a tragic love story of missed opportunities, and as an examination of the difficulty in pursuing justice in a country in the iron grip of a military dictatorship.
The Top Ten Bestselling DVDs of 2010 (according to Numbers.com)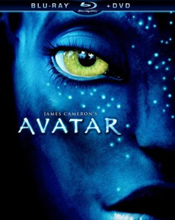 1.
Avatar
9.8 million units sold
2. Toy Story 3 8.4 million
3. The Twilight Saga: New Moon 7.8 million
4. The Blind Side 7.2 million
5. The Twilight Saga: Eclipse 6.36 million
6. How to Train Your Dragon 5.25 million
7. Iron Man 2 5 million
8. The Princess and the Frog 4.5 million
9. The Hangover 4.3 million
10. Alice in Wonderland 4.1 million
The Top Ten Anime Releases of 2010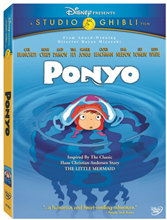 1.
Ponyo Blu-ray
(Disney)
On this list the bestseller is also the best film.
2. Evangelion 1.11 You Are Not Alone Blu-ray (Funimation) Hideaki Anno's "rebuild" of Evangelion may have stirred some controversy, but the first of four movies remaking the 1990s epic TV series is a stunning visual experience in its own right.
3. Full Metal Alchemist: Brotherhood Part 1 Blu-ray It does say something about the state of the anime industry that so many of the top releases of 2010 are new versions of successful series, but it's hard to fault this re-do of FMA, which hews far closer to the narrative of the original manga.
4. Naruto Shippuden Box Set 1 (Viz Media) This highly anticipated series featuring a slightly older Naruto finally debuted in the U.S. in 2010 and it was worth the wait.
5. Gintama Collection 1 (Sentai Filmworks) It's aliens versus Samurai in this innovative series that mixes adventure and comedy.
6. Oh! Edo Rocket (Funimation) There's plenty of humor in this period saga that is one of the few anime series based on a stage play rather than a manga, light novel, or video game.
7. Rental Magica, Part 2 (Nozumi Entertainment) Harry Potter has had an influence in Japan as well as in the rest of the world—as this very entertaining (and very Japanese) take on the saga of a young magician demonstrates.
8. Hetalia Axis Powers: The Complete First Season (Funimation) Speaking of series that are "echt" Japanese, this wild metaphorical look at World War II is the definite break out "cult hit" manga and anime of 2010.
9. Eden of the East: The Complete Series Blu-Ray (Funimation) Written and directed by Kenji Kamiyama (Ghost in the Shell: Stand Alone Complex, Blood the Last Vampire), Eden of the East deftly mixes adventure, comedy, and fantasy--and it features character designs by Chica Umino (Honey and Clover).
10. Soul Eater Part 1 (Funimation) Bleach isn't the only supernatural fantasy/comedy/adventure worth watching, the Soul Eater anime produced by Bones and based on the manga by Atsushi Okubo is lots of fun.
The Top Ten TV on DVD Releases of 2010
1. Lost: The Complete Collection Blu-ray (ABC Studios) The whole crazy series in one cleverly constructed package with enough extras for several lifetimes.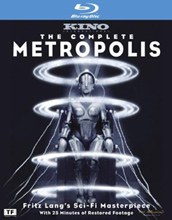 2.
Leave It To Beaver: The Complete Series
(Shout Factory)
This superbly-produced set contains 37 discs and includes lots of fascinating extras from
series that crystallized the essence of the 1950s.
3. The Six Million Dollar Man: The Complete Series (Time Life) Here's another decade-defining show—only this time it's the 1970s. How did Steve Austin run so fast with those bell-bottom pants flapping away like that?
4. Heroes: The Complete Series (Universal) The best original superhero series in TV history fell victim to the writers' strike and network interference, but it's still worth watching.
5. Batman Beyond: The Complete Series (Warner Bros.) This 52-episode series explored the darker side of the Batman mythos, and remains an excellent example of the Saturday morning superhero cartoon series at its best.
6. Twilight Zone: Season 1 Blu-ray (Image Entertainment) This groundbreaking science fiction series looks incredibly sharp in high-def.
7. Slings & Arrows: The Complete Collection Blu-ray (Acorn) The best Canadian TV series ever—and one of the funniest shows of the past decade.
8. Mystery Science Theater 3000: Vol. XIX (Shout Factory) MST3K is the cult series that just keeps on going.
9. Midsommer Murders Village Cage Files (Acorn) Midsommer Murders is simply the most entertaining mystery series in TV history—absolutely addictive for mystery fans.
10. Futurama Vol. 5 (Fox) Cable can't be all bad, it brought us new episodes of the best American science fiction cartoon series ever.
The Ten Top Classic Movie Releases of 2010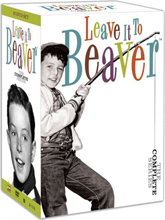 1.
Metropolis Blu-ray
(Kino)
Here's the closest thing we will ever see to the original version of Fritz Lang's seminal science fiction film.
2. Make Way for Tomorrow (Criterion) Leo McCarey's downbeat look at what happened to old timers before Social Security is both revealing and heartbreaking. Who says every Golden Age Hollywood movie had a happy ending?
3. The African Queen Blu-ray (Paramount) A Technicolor classic gets a fitting re-release with a sparkling hi-def transfer.
4. Apocalypse Now Full Disclosure Edition Blu-ray (Lionsgate) Along with superb transfers of Apocalypse Now and the expanded Apocalypse Now Redux, this set also includes the brilliant documentary, Hearts of Darkness.
5. Three Silent Classics By Josef Von Sternberg (Criterion) Silent movies were at their artistic peak when they were eclipsed by sound, and few were ever better than Von Sternberg's Underworld, The Last Command, and The Docks of New York.
6. Sherlock Jr./ The Three Ages Blu-ray (Kino) Buster Keaton was the most poetic silent comedian and Sherlock Jr. is a metaphysical masterpiece.
7. The Bridge on the River Kwai Blu-ray (Sony) This David Lean epic that looks fantastic on Blu-ray—when are they going to release Lawrence of Arabia in the hi-def format?
8. Pandora and the Flying Dutchman Blu-ray (Kino) Albert Lewin's quirky film is certainly not his best directorial effort, but the cinematography by Jack Cardiff comes through brilliantly in this Blu-ray—and it's even better than Cardiff's highly touted work in The Red Shoes and Black Narcissus.
9. Crumb Blu-ray (Criterion) The best documentary ever about a comic book artist, who just happens to be both a total weirdo and a national treasure.
10. Modern Times Blu-ray (Criterion) One of Chaplin's very best features gets the release it deserves.