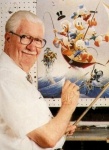 Fantagraphics will collect Carl Barks' comic work on Disney ducks beginning in 2011, according to an interview with Gary Groth on Robot 6. Like its strip series, the company will release two hardcover volumes a year, with the material reproduced at about 90% of comic book size. Each volume will be roughly 240 pages at $24.99.
The first volume, Lost in the Andes, will cover the beginning of Barks' peak period, beginning in 1948.
Fantagraphics is also collecting the Mickey Mouse comic strips by Floyd Gottfredson (see "Fantagraphics to Publish Mickey Mouse Comics").