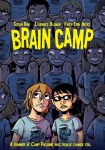 The Young Adult Library Services Association released its annual list of Great Graphic Novels for Teens at the recently concluded American Library Association Midwinter Meeting. The group also released a Top Ten list of titles "that exemplify the quality and range of graphic novels appropriate for teen audiences." The top ten titles are:
Brain Camp
First Second
Chew Vol. 1: Taster's Choice
Image Comics
Ghostopolis
Graphix
Green Monk
Brandon Dayton
Meanwhile: Pick Any Path.
Amulet Books
Saturn Apartments Vol. 1
Viz Media
Set to Sea
Fantagraphics Books

Smile
Graphix
Yummy: The Last Days of a Southside Shorty
Lee & Low Books
The Zabime Sisters
First Second
For the full list of 2011 Great Graphic Novels for Teens,
click here.