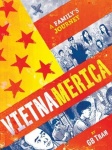 Vietnamerica: A Family's Journey HC
Publisher: Villard
Release Date: January 2011
Price: $30.00
Creator: GB Tran
Format: 288 pgs.; Color; Hardcover
ISBN: 978-0-3455-0872-0
ICv2 Rating: 4 Stars out of 5
Growing up Vietnamese-American, GT Tran didn't know very much about his parents' lives before they came to America. But the deaths of his grandparents forces Tran to travel to Vietnam for the first time, where little by little he learns how his family's painful past has shaped his entire life.
Through a series of flashbacks
Vietnamerica
retells how Tran's family was caught up in their country's turbulent history. It's a sweeping saga that reveals how they dealt with Vietnam's occupation by foreign powers, the war between the communist North and the corrupt government of the South and escaped the country during the Fall of Saigon.
There's a great deal that's distinctive about Trans family's story, but at its core it's the classic American experience of immigrants who face adversity to get to their new country then struggle to adapt to its new ways. But it also focuses on the unexpected consequences; and the seemingly inevitable generational conflict that arises between parents and children, as seen in Tran's strained relationship with his distant father.
Vietnamerica
is a compelling combination of autobiography and sprawling history that works best when dealing with the family conflicts and resentments that will be familiar to most readers regardless of their background. It should appeal to anyone who's interested in a story effectively told by a talented artist.
--
Steve Bennett: Writer and retail services consultant.