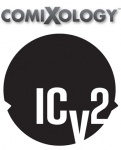 An ICv2 Release
. comiXology announced today a strategic agreement with ICv2, the #1 source for business information in the comic industry. ICv2, led by CEO Milton Griepp, will work closely with comiXology to further develop, manage and expand its relationships with brick and mortar comic book retailers as new programs and technologies are introduced to help retailers prosper.
The relationship will also build on comiXology's Retailer Tools, which have been growing sales and improving the operational efficiency of local comic stores since 2009 with their online pull list management software and free cover gallery for any Website. The Retailer Tools includes the widely used comiXology Pull List app, enabling fans to pre-order comics for pick up from their local stores through the app. ICv2 will be handling sales, marketing, and customer service for The Retailer Tools.
"From day one, we always understood that the brick-and-mortar retailers are the backbone of the comic industry community," said David Steinberger, CEO of comiXology. "Making them stronger businesses creates a greater opportunity for us to collaborate and grow the comic marketplace together. Milton's insight during his term on our board has been a huge asset to us and we are glad to partner with him to advance our retailer relations and technology."
comiXology recently launched a new Pull List Email format, empowering retailers to attract new customers by directing consumers who aren't already connected to a retailer towards an established comiXology retailer.
"What attracted us to comiXology was the vision of a platform for fans, retailers, and publishers that enhances sales of all comics, both physical and digital," said Griepp. "ICv2's long experience with the retailer community, combined with comiXology's unique platform, offers huge opportunities to grow the business at a time of dynamic change in the industry."
About comiXology
Since 2007 comiXology has been developing the technological infrastructure to bring comics into the digital mainstream and expose new audiences to the rich history and culture of the industry. Through partnerships with top comic book publishers including Marvel Comics, DC Comics, BOOM! Studios and Image Comics as well as their own mobile and web apps which hosts nearly 5000 digital titles, comiXology has become a leader in digital comic book proliferation. Also focused on creating strong ties with retail stores through its technology solutions, comiXology continues to transform the previously fragmented comic ecosystem into a vibrant and cohesive marketplace.
About ICv2
ICv2 is the industry's source on the business of comics and graphic novels, also covering manga and anime, movie/TV products (including cool DVDs, figures, and more), and hobby games (collectible, cool board, minis, RPGs) daily on its Website, ICv2.com, and in its magazine, Internal Correspondence. For the people on the front lines of the pop culture business, staying ahead of the trends isn't something that can be left to chance-it's a basic necessity for being successful. That's why ICv2 is the #1 source of news and information for the buyers, gatekeepers, and tastemakers on the front lines. ICv2 is where trend-watching has become a science.