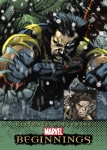 This March the Upper Deck Company expands its Marvel trading card program with the first portion of the most comprehensive set yet of cards detailing the Marvel Universe. Marvel Beginnings: Series 1 includes 180 cards featuring Marvel's most famous heroes and villains. The seven-card, hobby-only Marvel Beginnings:Series 1 packs will have an MSRP of $2.99, with the 24-pack box retailing for $71.99.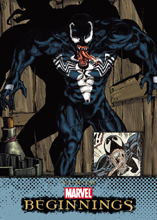 In addition to all the major denizens of the Marvel Universe, the
Marvel Beginning
sets will feature randomly-inserted and high desirable artist's sketch cards as well as autograph cards.
In June Upper Deck follows up with a trading card release based on the Marvel Studios' movie Captain America: The First Avenger, which is slated to debut on July 22nd. The 90-card Captain America set features all the key moments and characters from the highly anticipated movie, plus some great inserts including autographs from the film's cast and "patch" cards that feature some of the popular patches and insignias used in the movie.