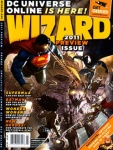 It's truly the end of an era. Nearly 20 years after it burst on the scene in 1991 Wizard magazine and its sister publication ToyFare have ceased publication. A spokesperson for Wizard World PR has confirmed to ICv2 that earlier online reports of the demise of the print and paper incarnations of Wizard and ToyFare were correct. Wizard World, Inc., a newly formed public corporation headed by Wizard magazine founder Gareb Shamus will begin the production of an online Wizard World publication in February as well as continue to manage the full slate of Wizard World Tour conventions. Wizard World's Jerry Milani told ICv2 that the new online publication "will allow us to reach an even wider audience in a format that is increasingly popular and more widely accessible."
With its in-issue price guides, its top ten lists, and its annual "Wizard Fan Awards,"
Wizard
magazine was a major and sometimes controversial player in the comics "boom" of the early 1990s, a heady era when
Wizard
was so popular that it often outsold all but the very top tier of the comics it covered. Many of those titles and some of the companies that published them didn't survive the mid-90s implosion of the comics boom, but
Wizard
did, adding
ToyFare
to its lineup in 1997, and broadening its focus to encompass a wider swath of the pop culture world in recent years, though attempts to replicate
Wizard's
successful format in other categories such as games with
InQuest
and anime with
Anime Insider
were abandoned in 2007 (see "
Wizard Kills InQuest
") and 2009 (see "
Anime Insider Shuts Down
") respectively.
But the current harsh economic climate and the accompanying technological revolution have been particularly hard on the sales of all sorts of periodical publications (see "
176 Magazines Close in 2010
"), and
Wizard
founder Gareb Shamus increasingly turned his attention to the acquisition of more Wizard World Comic Con Tour events, most recently adding the Mid-Ohio Con to the company's growing roster of shows (see "
Wizard Acquires Mid-Ohio Con
") that will extend to 12 cities including New York City, Boston, Chicago, Philadelphia, Austin, and New Orleans in 2011.
In a press release issued today Shamus announced that he had been appointed President and Chairman of a public company Wizard World, Inc.

Filings with the SEC indicate that Shamus took Wizard World public via a reverse merger with a shell company, a failed oil and gas exploration entity known as GoEnergy Inc., which acquired the assets of Kick the Can, the privately-held Nevada corporation that was the corporate repository of the Wizard World Comic Con Tour assets. After the acquisition, the chairman and CFO of GoEnergy resigned and was replaced by Shamus.

Perhaps the most important aspect of the entire transaction was that the new company was able to raise some capital via the issuance of $1.5 million in preferred stock in the new entity, which was renamed Wizard World, Inc.