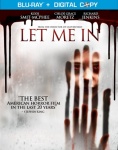 A brace of interesting low and moderate budgeted films led by the vampire saga Let Me In, the politically-charged Monsters, and the thought-provoking Never Let Me Go highlight this week's DVD offerings.
Theatrical Films
Let Me In (Anchor Bay, "R," $29.98, BD $39.99) is the American remake of the haunting Swedish vampire film Let The Right One In. In fact it is a close enough remake to wonder why they even bothered to remake it. Although the art house crowd may still prefer the Swedish film, this American remake directed by Matt Reeves comes pretty close to the original, which makes it one of the very best American horror movies in years and it has one advantage over the Swedish film, it can be enjoyed without subtitles. Let Me In is the first film from the revived Hammer Studio and it is a credible effort all around. It scored a remarkable (for a horror film) 89% positive on Rotten Tomatoes. It even spawned a comic book adaptation from Dark Horse. Anyone who likes any sort of vampire movies and hasn't seen Let Me In, should definitely remedy the situation by buying or renting the DVD.
Let Me In isn't the only American film debuting on disc this week that didn't received the attention it deserved. Monsters (Magnolia Home Entertainment, "R," 24.98, BD $29.98) is a low-budget monster/road movie/romance that can be seen as a sort of parable of American immigration difficulties in much the same way that District Nine illuminated South Africa's past social ills. In Monsters, the aliens have landed, but they have been quarantined in Northern Mexico and a giant wall has been built to keep them out of the U.S. Though far from a perfect film, Monsters was intellectually provocative and viscerally effective enough to earn a solid 71% positive rating from the critics on Rotten Tomatoes.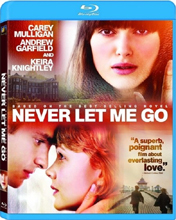 Based on a novel by Kazuo Ishiguro,
Never Let Me Go
(Fox, "R," $29.99, BD $39.99)is an extremely well-acted dystopian drama directed by Mark Romanek from a screenplay by Alex Garland (
28 Days Later
). With superb performances from Carey Mulligan (
An Education
), Andrew Garfield (
The Social Network
, the new
Spider-Man
), and Keira Knightley (
Atonement
) as a trio of clones, created in a laboratory, and raised in order to provide organs for severely ill patients,
Never Let Me Go
is one of the most interesting films produced in 2010. Produced on a modest $15 million budget,
Never Let Me Go
is a thought-provoking and ultimately depressing film that is not for everyone, but it will reward the adventurous viewer.
Another low budget film of interest is Night Catches Us (Magnolia, "R," $26.98, BD $29.99), a politically complex drama set in a tough black neighborhood in Philadelphia in 1976. Night Catches Us deals in a very sophisticated way with the politics and rivalries of the Black Power era, and it earned a strong 80% positive rating from Rotten Tomatoes. Its major flaw is that for some reason writer/director Tanya Hamilton passed up the opportunity to employ a 1970s Philly soul-based musical track.
Skin (Entertainment 1, "PG-13," $24.98) is an earnest socially-relevant film about a girl with "black" features who was born to two white apartheid-adhering Afrikaner parents. Critics loved Skin, which registered 85% positive on Rotten Tomatoes, but this South African film may be a little too "TV Movie of the Week" for some viewers. That syndrome is even more pronounced in Conviction (Fox, "R," $29.99, BD $39.99), which is based on a true story and stars Hillary Swank in a powerful performance as a blue collar woman who put herself through law school and fought tirelessly for 18 years to free her brother who was wrongfully convicted of murder and sentenced to life imprisonment.
TV on DVD
It's a very slim week in this category, especially on the American side where the best releases are the Best of Saturday Night Live Chris Farley (Lionsgate, 108 min., $14.98) and the Best of Saturday Night Live John Belushi (Lionsgate, 137 min., $14.98). Each of the collections of great bits by two of SNL's heavyweight performers has been expanded by 25 minutes. The Chris Farley disk benefits from the addition of his great work on several memorable "Da Bears" sketches, while the Belushi disk contains his priceless imitations of Joe Cocker, Marlon Brando, and Elizabeth Taylor.
The only other U.S. releases are Airwolf: Season 4 (Universal, 928 min., $39.98), which features the wooden antics of Jan Michael Vincent that only serve to highlight the mugging of Ernie Borgnine, and the gentle animated single-disc Clifford: The Big Red Dog (Lionsgate, 66 min., $14.98).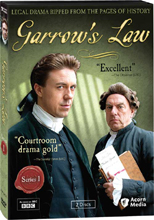 The best TV stuff this week comes from the U.K., and the most surprising is
Garrow's Law: Series I
(Acorn Media, 240 min., $39.99), a dramatic courtroom series ripped from the pages of history. This saga of 18th Century barrister William Garrow, which is drawn from actual records of the Old Bailey, demonstrates how our legal system has evolved to provide more protection for the innocent. Garrow pioneered the art of cross-examination of witnesses by the defense attorney, a practice that had previously been severely restricted, and he played a huge role in the establishment of the current advocacy system of criminal justice. But this is no dry historical recreation, but a superbly produced period drama that aired on the BBC in 2009.
Garrow's Law
is as exciting as
Perry Mason
, and even more interesting since the viewer can see the outlines of our current judicial system developing before his eyes.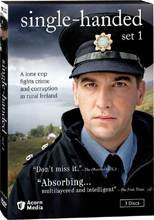 Equally compelling, though for entirely different reasons is
Single Handed: Set 1
(Acorn Media, 278 min., $49.98), an Irish series about a lone policeman, who returns to his hometown on the beautiful, but sparsely populated west coast of Ireland. The rugged, but gorgeous landscapes hide layers of corruption and guilt, some of which involves members of Driscoll's own family. Well-acted and well-written
Single Handed
is an unexpectedly fascinating look at the corruption behind the prosperous face of the Celtic tiger. The first of the three feature-length mysteries focuses on the mysterious death of a beautiful illegal immigrant from Eastern Europe.
Train buffs will love The Flockton Flyer: Season 1 (VCI, 180 min., $19.99), a 1976 series about the attempt of the Carter family to re-open and run the Flockton to Lane End branch railway closed by British railways in 1971.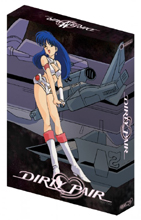 Perhaps the top release of the week is
Blue Murder: The Complete Collection
(Acorn Media, 1170 min., $99.99), which contains all 19 episodes of the gritty detective series that aired on ITV from 2003-2009. Caroline Quentin gives a bravura performance as Detective Chief Inspector Janine Lewis, a recently divorced mother of three (with another on the way in episode 1) charged with investigating the grisliest crimes in Manchester. The alarm clock is a major player in this series, which emphasizes the harried life of a working mother with major responsibilities and deals realistically with the hit-or-miss nature of police work and the difficulties of narrowing down a suspect and building a case. The only flaw in this set is that the first 3 discs (out of 9) do not contain subtitles and the Midlands accents are sometimes difficult to decipher (at least for Yanks).
Anime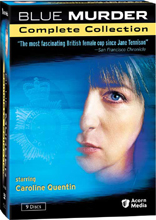 This week Nozumi Entertainment is releasing the second half of the 1985
Dirty Pair
TV anime.
Dirty Pair: The Original TV Series Part 2
(Nozumi Ent., "13+," 325 min., $49.99) features episodes 14-26 from the classic science fiction comedy/adventure series featuring the comely pair of "trouble consultants" Kei and Yuri who solve crimes in this entertaining series set in 2138. This rollicking series was a key player in spreading the influence of anime in the U.S. market back in the Twentieth Century.
You're Under Arrest: Fast and Furious Complete Collection (Sentai Filmworks, "13+," 650 min., $59.98) also features the exploits of two comely cops, Miyuki and Natsumi, who ply their trade in contemporary Tokyo. Based on the manga by Kosuke Fujishima, creator of Oh My Goddess, this 26-episode series was produced by Studio Deen and originally aired in Japan in 2001. Once again both the You're Under Arrest manga and anime series were historically important in the development of the American market.
Also out this week is the Ikki Tousen: Dragon Destiny Complete Collection (Media Blasters, "16+," 300 min., $34.95), the 2007 anime series based on the sexy female martial arts manga by Yuji Shiozaki that is loosely based on the classic Chinese novel, The Romance of the Three Kingdoms, and the street racing saga, Initial D: Stage 2 Collection (Funimation, "13+," 325 min., $29.98), which includes all 13 episodes of the anime, which aired in Japan in 1999 and 2000.
Documentaries
Amir Bar-Lev's The Tillman Story (Sony, "R," $24.95, BD $38.96) is an extremely well-made documentary about the pro football player who became the most famous recruit of the post-9/11 era. The Tillman Story not only provides an inspiring look at a unique individual and his sacrifice, it also details his anti-Iraq war views and carefully delineates the manner in which his death by friendly fire in Afghanistan was hidden from the public and used for propaganda purposes. The best thing about The Tillman Story is that it carefully avoids falling into the conspiracy movie trap and yet deals frankly and fairly with the cover-up of his death.
Foreign Films
Believe it or not, occasionally American films get remade overseas. Zhang Yimou's A Woman, A Gun, and a Noodle Shop (Sony, "R," $28.95, BD $38.96) is a Chinese version of the Coen brothers' 1984 film Blood Simple. It is interesting to see how even with parallel plots, different themes are emphasized in the American and Chinese films.