Art Spiegleman became the third American artist to win the "Grand Prize" at the International Comics Festival at Angouleme, the world's largest comics event, which attracted an estimated 200,000 visitors to the picturesque southwestern French city over the past weekend. Will Eisner and Robert Crumb were the only previous American creators to win the festival's top honor. Winning the "Grand Prize" means that Spiegelman will serve as the grand marshal for next year's event.
Spiegelman, who was honored for his work as editor of and contributor to
Raw Magazine
as well for his landmark creation
Maus
, took a very humble tack in accepting the award. Speaking to the festival by phone, he said, according to
Agence France-Press
: "Considering my poor skills, I'm looking a little like President Obama receiving the Nobel Peace Prize. It's an incredible honor. I've learned so much from French comics. As my French wife said when she heard the news: 'Merde!'"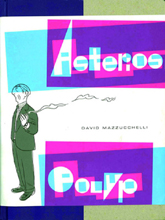 David Mazzuchelli, who left the world of mainstream comics (
Batman Year One
) for the uncertainty of an independent career, won the "Grand Jury Prize" for his original graphic novel
Asterios Polyp
(published by Pantheon). Joe Sacco's
Gaza 1956
(published here as
Footnotes in Gaza
by Metropolitan Books) won the non-fiction "Prix Regards Sur Le Monde" award. Naoki Urusawa and the late Osamu Tezuka won the "Intergenerational Prize" for
Pluto
(published here by Viz Media).
The award for "Album of the Year" went to Italian artist Manuele Fior for Five Thousand Kilometers Per Second. The "Prix de la Serie" was awarded to Fabien Nury and Sylvain Vallee for the WW II-themed Il Etait Une Fois En France Vol.4 (Once Upon a Time in France). The Belgian artist Brecht Evens won the "Prix de L'Audace" for Les Noceurs, while French artist Elodie Durand took home the "Prix Revelation" for La Parenthese. Italian artist Attilio Micheluzzi was awarded the "Prix de Patrimoine" for Bab-el-Mandeb, and the time-traveling Les Chrono Kids by Zep, Stan, and Vince took the top kids' comic award.