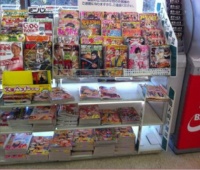 The passage of a revision of The Tokyo Metropolitan Ordinance Regarding the Healthy Development of Youth to expand the definition of "harmful publications" and to give the Metropolitan Tokyo government more power to enforce the law is definitely having an effect on the distribution of manga in the most important market in Japan. The revision, which was known as Bill 156 and was pushed by Tokyo's governor Shintaro Ishihara is having some of the self-censoring results that its supporters hoped it would have.
Manga vendors, who are evidently fearful of the potential fines for selling "harmful manga" to minors, are racking even innocuous titles in ways that minimize their visibility, especially to younger readers. As the
Sankaku Complex
site reports convenience stores in Tokyo, a key venue for manga sales, are now putting manga magazines such as
Manga Home
,
Morning
, and
Evening
with the porno magazines in a special out-of-the-way section where minors are forbidden to browse or buy.
Anime may be affected too. There were rumors (later denied) published in Kodansha's
Gendai
magazine (via
Anime News Network
) that the Tokyo MX TV station was planning to consider the possibility of self-censoring risqué anime series by eliminating some of the more egregious fan service elements such as panty shots.
But Bill 156, which was opposed by just two small political parties, the Japanese Communist Party and the Tokyo Seikashusha Network, has also sparked protest among publishers and some anime producers. The protest, which is being led by some of Japan's leading publishers including Kodakawa Shoten, has been concentrated on the Tokyo Anime Fair, which is slated to take place at the Tokyo Big Sight exhibition center from March 24th to 27th. So far, according to
The Independent
, 91 exhibitors that were expected to attend have pulled out of the event, which attracted 132,000 visitors last year. That leaves 153 exhibitors of which 125 are Japanese companies.
Protestors led by Kadokawa Shoten have organized an alternative Anime Contents Expo that will be held at the Makuhari Messe convention center during the same weekend as the Tokyo Anime Fair.