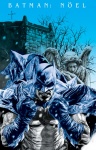 One of the first major announcements to come out of the ComicsPRO meeting in Dallas comes from DC Comics. Lee Bermejo, the acclaimed artist whose stunning work on the Joker hardcover (written by Brian Azzarello) helped make it one of the bestselling graphic novels of 2008, is both writing and illustrating Batman: Noel, a holiday-themed original graphic novel.
DC's
The Source
blog broke the story of this "holiday tale with a twist." Given the continuing popularity of the
Batman
property, the success of Bermejo's
Joker
graphic novel and the excellence of his work on the
Superman
story written by John Arcudi that was the focal point of DC's
Wednesday Comics
collection that was originally serialized by
USA Today
,
Batman Noel
has to be regarded as one of the most anticipated graphic novels of 2011, a project that will have major potential in both the comic shop and bookstore markets.