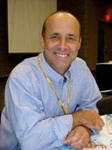 John Shableski, Diamond Book Distributors Sales Manager and one of the industry's major champions of the graphic novel, is leaving DBD to become President of the Publishing Division of JeffCorwinConnect, a worldwide educational and entertainment company created by Jeff Corwin of the Animal Planet Network.
JeffCorwinConnect plans to publish six graphic novels in 2011 starting with Black Tide, which will attempt to tell the full story of the impact of Gulf Coast oil spill of 2010. Black Tide will be published in April to mark the one-year anniversary of the spill, which began with a huge explosion on a platform in the Gulf leased by BP. The focus of the JeffCorwinConnect graphic novels will be on the tween market, and the plan is to raise the awareness of young people to critical environmental issues.
Shableski, who worked with library wholesaler Broadart Co. before joining DBD, certainly has the contacts with both public and school librarians that should be invaluable when launching a line of books with an educational focus and purpose.