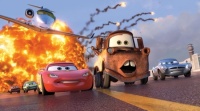 With the acquisition of Marvel by Disney it was probably inevitable that Marvel would get a chance to publish comic material based on the Disney/Pixar stable of characters. When Boom! Studios stopped soliciting for its Pixar-based comics, the handwriting was on the wall. Now comes official word that the first issue of the Marvel produced Disney*Pixar Magazine will be released in May. The monthly 96-page, full color magazine will have a cover price of $5.99 and will include a mixture of brand new comic stories, classic adventures, puzzles, games and features. The magazine will be available at bookstores, retail chains, and comic shops.
The first issue of the Disney*Pixar Magazine will reprint comic book material produced by Boom! Studios, but going forward Marvel will be producing the Pixar-based comics. Boom's Ross Richie confirmed that his company will continue to publish comics based on the classic Disney characters as well as the Disney "Afternoon" properties like Darkwing Duck and the Chip N' Dale Rescue Rangers, but the Pixar properties are heading to Marvel/Disney. Marvel's Axel Alonso sees the potential in the new magazine with its mass market appeal to "introduce a whole new generation to comics."
The first issue of the new magazine will be Disney*Pixar Presents: Cars Magazine #1 and it will focus on popular Pixar property that will get a huge boost from the release of Cars 2 this summer. The Cars comic material included in the magazine will actually be reprints of the Cars comics produced by Boom! Studios and collected in the Rally Race graphic novel, which was published in May of 2010 and appears to be still available on Amazon and from distributors.
Although it is not often recognized as such, Cars is one of the biggest licensed properties of the past decade with over $8 billion of worldwide retail sales of merchandise based on the 2006 film. The magazine format of the new Disney*Pixar Presents: Cars Magazine #1 may not find favor in the comic shops (though stores with a younger clientele would be advised to stock it), but it should "kill" in the mass market.