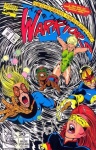 The
Hollywood Reporter
has disclosed that UPN is developing a one-hour television series based on the character Night Thrasher from the Marvel
New Warriors
comic book. The Night Thrasher was a tech-savvy African American martial artist, who made his comic debut in
Thor #411
and ended the most recent stage of his comic book career a little over a decade later in July of 2000.
Movie scribe Michael Elliot (
Brown Sugar
,
Like Mike
) is writing and producing the pilot.
Elliot described the Night Thrasher to
The Hollywood
Reporter
as 'a hip-hop version of James Bond,' and noted, 'as an African American writer, there is nothing cooler than to create a black superhero.'
Marvel has a number of high profile movie projects on tap for the theaters starting with a 2003 trifecta that includes Daredevil, X-Men 2, and The Hulk, but so far DC has ruled the small screen both in terms of live action and animation. The development of Night Thrasher for UPN and the continued success of Mutant X in syndication represent small steps by Marvel in the direction of parity with DC on the small screen.