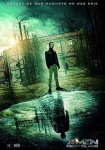 Twentieth Century Fox has released two posters for Matthew Vaughn's X-Men: First Class, which debuts nationwide on April 30th. Vaughn reboots the X-Men franchise with a story that goes back to the 1960s to the genesis of the X-Men and the long-running feud between Magneto and Professor X. X-Men: First Class returns to the time when Magneto and Professor X were just Erik Lehnsherr and Charles Xavier. The two antagonists began as friends who debated the consequences for humanity of the rise of mutants. Not surprisingly the poster featuring Michael Fassbender as Erik is somber with what looks like a concentration camp background (Erik was born Max Eisenhardt, a Polish Jew who was sent to Auschwitz).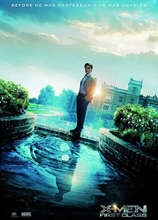 In contrast the dominant color tone of the Charles Xavier poster that features James McAvoy is provided by the blue skies, which give the image a happier, more positive vibe. Excitement for the release of the
X-Men: First Class
movie has been building since the release of a hot new trailer for the film (see "
X: Men: First Class Trailer
").