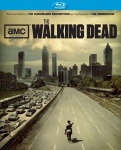 There are quite a few interesting releases this week topped by the first season of The Walking Dead, a new Mystery Science Theater 3000 set, some classic Doctor Who sagas, two quality anime offerings from Studio Ghibli, and an Oscar-winning documentary that everyone should see.
TV on DVD
The release of the week is The Walking Dead (Starz, 282 min., $39.98, BD $49.99), which includes the first season (six episodes) of the extremely well-produced adaptation of Robert Kirkman's Image comic book series. The Blu-ray is definitely the way to go since it contains a number of exclusive extra features including "On the Set With Robert Kirkman," "Zombie School," "Bicycle Girl," "Hanging With Stephen Yeun," and "Inside Dale's RV." This epic tale of survival produced, guided, and directed by Frank Darabont, the director of The Shawshank Redemption, was one of the hits of the fall TV season. Look for this DVD release to keep all 13 volumes of Kirkman's epic selling until the even harder-hitting, gorier Season 2 hits the airwaves next fall.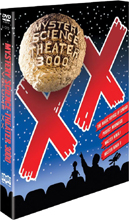 But
The Walking Dead
isn't the only cult favorite out this week. The Peabody Award-winning
Mystery Science Theater 3000: XX
(Shout Factory, 360 min., $59.97) provides fans with tons of hilarity thanks to the snide comments of Crow T. Robot, Tom Servo, and your genial host Joel Robinson (Joel Hodgson). Four exquisitely bad movies, including
Project Moonbase, Master Ninja 1, Master Ninja 2,
and
The Magic Voyage of Sinbad
get the
MST3K
treatment in this new 4-disc set.
Fans of the classic Doctor Who series also have something to shout about this week. Doctor Who: Story #23: The Ark (BBC, 97 min., $24.98) features William Hartnell (the first Doctor) in a four-part series from way back in 1966. Also due on Tuesday is Doctor Who: Story 085: The Seeds of Doom (BBC, 125 min., $34.98), a classic 6-parter from 1976 that features the popular 4th Doctor Tom Baker. The Seeds of Doom is a prime example of the Gothic horror-influenced episodes favored by 1970s producer Philip Hinchcliffe and script editor Robert Holmes.
Other UK-produced TV offerings include Dalziel and Pascoe: Season 3 (BBC, 380 min., $34.98), which contains 4 more crime-busting adventures featuring the "odd couple" of UK law enforcement, while Judge John Deed: Season 3 (BBC, 356 min., $34.98) stars Martin Shaw as John Deed who is not your typical high court judge—he's more empathetic than coldly objective and his creative thinking often gets him in trouble with his peers.
Also out this week are SpongeBob Squarepants: Great Patty Caper (Nickeodeon, 89 min., $16.99), and Hannah Montana: The Complete 4th & Final Season (Disney, 341 min., $29.99).
Anime
The top releases on Tuesday are from Studio Ghibli. Goro Miyazaki's adaptation of Ursula K. LeGuin's
Tales From Earthsea
(Disney, "13+," 115 min., $29.98) didn't meet with the author's approval, but she didn't excoriate it with the same thoroughness that she leveled at the SyFy live-action miniseries adaptation. Reports from Japan indicate that Goro and his father Hayao had a number of disputes over the making of this film, which is probably best described as an adaptation of
The Farthest Shore
, the third book in LeGuin's series. It is far from a perfect film, but it is still worth seeing. both for those who enjoy Ghibli films and for devotees of the works of LeGuin. As usual Disney has created a superior English dub with a cast that includes Timothy Dalton, Willem Dafoe, Cheech Marin and Mariska Hargitay.
But the best anime film released this week is the Blu-ray/DVD combo of Hayao Miyazaki's masterpiece Nausicaa of the Valley of the Wind (Disney, "13+," 117 min., $39.98). Produced in 1984, the ecologically-themed Nausicaa was well ahead of its time, and it remains one of anime's great achievements.
The other anime Blu-ray release of the week is Dragon Ball Z Kai Season 1 Part 4 (Funimation, "13+," 325 min., $29.95, BD $34.95). Dragon Ball Z Kai is the re-mastered hi-def streamlined version of DBZ with a storyline that has been trimmed back to include only the narrative from Akira Toriyama's DBZ manga. The DBZ Kai series is currently airing on the Nicktoons cable channel.
The top non-Blu-ray anime release is Black Butler Season 1 Part 2 (Funimation, "14+," 300 min., $59.95), which includes episodes 13-24 of the anime series produced by A-1 Pictures and based on Yana Toboso's popular manga, which is published here in the U.S. by Yen Press. T he Black Butler manga is a huge hit, both in Japan and the U.S., and this delightful black comedy series is a "must-see" for anime fans.
Also out this week is the Akane iro ni Somaru Saka Complete Collection (Sentai Filmworks, 325 min., $49.98). Produced in 2008 by TNK, Akasaka, as it is known is a 12 episode harem/romance series (plus an OVA) based on an adult visual novel developed by Feng.
Bargain releases include El Cazador de la Bruja Complete Series (Funimation, "17+," 650 min., $49.98), the final installment of Bee Train's "girls with guns" trilogy that also includes Noir and Madlax. It was previously released in 2009 in two parts, and is not available in a complete set at half the per-episode cost. The S.A.V.E. edition of Gonzo's Speedgrapher (Funimation, "17+," 600 min., $29.95) is an even better deal.
Documentaries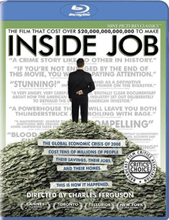 The Oscar-winning documentary
An Inside Job
(Sony, "PG-13," $28.95, BD $34.95) is one movie that everyone, regardless of their political point of view, should see. The partisan failure of the Congressional probe into the 2008 financial meltdown has left a void that Charles Ferguson's devastating critique of the financial deregulation under the Reagan, Clinton, and Bush administrations fills admirably. While much of
An Inside Job
covers familiar ground, it does perhaps the best job yet in explaining the ways in which exotic financial instruments such as derivatives, credit default swaps, and collateralized debt obligations managed to screw up the world economy. It also lays bare the culpability of economics professors at prestigious universities like Harvard and Columbia, who regularly lent their imprimatur to the activities of companies like AIG, Goldman Sachs, and the Icelandic banks. These academics were obviously corrupted by outsized fees for papers and speaking engagements, and their advice, such as Larry Summers push during the Clinton administration to keep derivatives unregulated and the Glenn Hubbard-designed Bush tax cuts, helped drive the American economy into the ground. Scariest of all is the continuing influence of the financial industry on government. One doesn't have to agree with the filmmakers' obvious desire to regulate salaries in the financial sector (though the amounts of compensation provided even in "bad" years to executives who harmed their company's bottom line are truly obscene, some might prefer to regulate the financial companies' activities that yielded the ridiculous paper returns rather than have government set pay limits) to see that the financial reforms enacted in 2010 are not nearly comprehensive enough, which makes the current talk in Congress about de-funding the newly-created financial regulatory agencies extremely scary.
As an example of muckraking journalism, An Inside Job has few peers, but it is not without its flaws. Its aim is somewhat scattershot as might be expected when tackling such a broad subject. It suggests, not without some justification, that the failure to bailout Lehman Brothers precipitated the financial meltdown, but it also appears that the house of cards financial structure was doomed to collapse at some point anyway. The film hints a little too cavalierly that the boom could have been contained much earlier with less cost to the economy. Of course it could have, but that would have required steps by the Federal Reserve and the Bush Administration that would have created short term pain and would have come at high political price, the kind of moves that politicians and regulators are unlikely to consider in the midst of an economic bubble that is still gaining momentum. It also doesn't explain how difficult it is under current laws to get a conviction for what appears to be an obvious case of fraud such as Goldman Sachs' creation of a fund of extremely "toxic" subprime loans that they not only bet against with CDSs, but also sold to gullible clients like the State of Mississippi Employee Pension Fund who lost their entire investment. An Inside Job also doesn't really tote up the gains and losses incurred in the Federal bailout program. Some banks have repaid their bailout loans with interest, while institutions like AIG will never even begin to repay the billions spent by the government to cover that company's Credit Default Swaps—but then that's probably the subject for another movie.
Theatrical Movies
Not much happening in this category. Jackass 3 (Paramount, "R" theatrical, DVD Not Rated, $29.98, 2-Disc $34.98, BD $39.99) provides 94 more minutes of over-the-top juvenile humor that hits its young male target demographic with all the effectiveness of a kick in the collective groin (and the BD provides the potential of 3D for those who have 3D TVs). Morning Glory (Paramount, "PG-13" $29.98, BD $34.98) largely wastes the talents of an all-star cast including Rachel McAdams as a young producer who has to save a morning show from bickering anchors. It's not as bad as some reviewers might have you think, but, all things considered, Morning Glory is pretty weak tea. The Next Three Days (Lionsgate, "PG-13," $29.98, BD $39.99) is a remake of the French film Pour Elle, and it also has an excellent cast that includes Russell Crowe, Elizabeth Banks, Liam Neeson, and Brian Dennehy. Audiences liked the film, which strains credulity at times, more than critics, who gave it only a 50% positive rating on Rotten Tomatoes, but not enough to make the movie a financial success. It earned $51 million worldwide against a cost of $30 million.
Classics on Blu-ray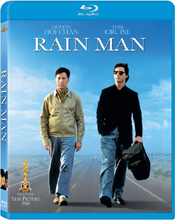 Seen again today Bernardo Bertolucci's
Last Tango in Paris
(MGM, "NC-17," BD $19.99) doesn't appear a "revolutionary" as it did in 1973 when Pauline Kael gushed that it "altered the face of an art form," but it does look spectacular in this newly re-mastered Blu-ray version, and it remains an unsettling film, though perhaps for different reasons than Bertolucci originally envisioned. While it does have plenty of nudity and frenzied couplings, the effect of
Last
Tango
is far from erotic, and the recent death of Maria Schneider, who plays the 20-year-old Parisan who meets the middle-aged Brando for anonymous sex in an unfurnished apartment, can't help but intrude in a rather troubling way that makes the film even more disturbing than it was originally. Her bitter comments about the making of the film quoted in her obituaries raise questions about the potential "human" cost of art that can't help but color the viewing experience.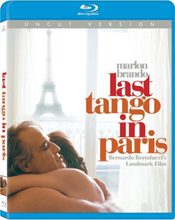 Also out on Blu-ray recently is Barry Levinson's
Rain Man
(MGM "R," BD $19.99) which won four Oscars in 1988. Though not for everyone, this slice-of-life drama with a touch of heart was tailor-made to win the Best Picture Oscar. Although Dustin Hoffman won the Oscar for Best Actor for his showy, albeit one-note performance as an autistic savant, it's actually Tom Cruise, in one of his best performances, who gets to display the real character development in this story that revolves around the changing relationship between two very different brothers.