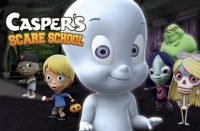 The venerable Harvey Comics character Casper the Friendly Ghost returns to the world of periodical comics in a new series from Ape Entertainment that is based on the 2006 computer-animated TV series Casper's Scare School. Ape will publish Casper's Scare School comics under its KiZoic imprint starting in October of 2011.
Ape Entertainment's Brent Erwin calls the new series "classic Casper with a slight contemporary spin."
For those who prefer the old school Harvey Comics approach, Dark Horse continues to publish collections of Harvey Comics including several volumes featuring Casper (see "
Dark Horse Has Archies Too
"), the most recent of which was
The Harvey Comics Treasury Vol. 1
published last September.