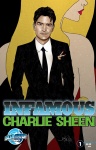 Bluewater Productions has announced the publication of Infamous: Charlie Sheen, a 32-page comic book biography of the troubled Hollywood star who has just been fired from the most popular sitcom on American television. Bluewater is rushing its Infamous: Charlie Sheen comic into production even as the controversial "tiger blood drinking" star appears to be imploding on camera in a series of bizarre online appearances that amount to a public meltdown.
Lest anyone think that Bluewater is exploiting a potentially tragic situation, Darren Davis, the company's President, notes that the Charlie Sheen comic will have a strong message warning of the dangers of substance abuse and the seriousness of mental health issues.
It appears that the volcanic eruptions of Mr. Sheen have occurred too quickly for the normal ordering patterns of comic book production, When pressed Bluewater indicated that the Infamous: Charlie Sheen comic will be published sometime this summer.
Infamous: Charlie Sheen
will retail for $3.99. Mark Shapiro is writing the comic while Fred Grivaud is handling the interior art and Joe Phillips is providing the cover art.
Sheen's bizarre performances have provided plenty of fodder for late night comedians, and even
The Walking Dead's
Robert Kirkman couldn't resist a very public plea to Sheen to play a role in the second season of the TV adaptation of the Image Comics zombie epic (see "
Kirkman Wants Charlie Sheen for The Walking Dead
").
Given the way Sheen's situation has been exploited in both the conventional print and TV media, it would be hypocritical to blame comic book publishers for wanting to get their piece of the action, wouldn't it?