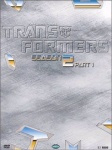 Rhino Home Video is releasing The Transformers: Season Two: Part 1 on November 28.

The four-disk box set has an SRP of $59.95, and includes 24 of the 49 episodes from the second season of the classic 1980s animated series.

Most Transformers fans consider the second season to be the high water mark of the series.

Rhino's earlier release, The Transformers: Season 1, was a DVD best seller in many pop culture stores earlier this year (see 'Transformers Season 1 Box Set Not Sold Out'), and both box sets are likely to be good sellers in the coming holiday season.

The property has spawned an extremely popular series of comic books from Dreamwave Productions (see 'Retro Influence Grows on Top Comic Sellers'), the Transformers CCG from Wizards of the Coast, and Hasbro is expanding its line of Transformers toys.

The Transformers: Season Two: Part 1 Box Set comes complete with a newly remixed 5.1 Dolby surround sound, plus extras like the 'A Taste of Botcon' featurette,which includes interviews with The Transformers creators and voice actors, as well as a reel of animation mistakes and an interview with scriptwriter Earl Kress.