We arrived at the Chicago Comic & Entertainment Expo at McCormick Place late Saturday morning. Although traffic on the exhibit floor was steady, some were bemoaning a late start to business for the day. But by the time we left late Saturday afternoon, we were hearing no such comments; large crowds had answered the question of whether or not the show, which had sky high expectations and some disappointed exhibitors in its inaugural year in 2010, could show growth in its second. Every exhibitor we talked to spoke of the improvement in the business they were doing at the show in its second year.
Here are a few of our photos from C2E2 2011.
These two were out in the registration area greeting con-goers when we arrived.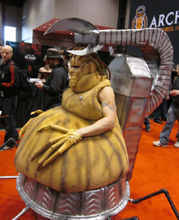 Power Girl and Black Canary were at the show.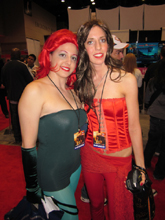 Their color scheme was kind of Christmas-y.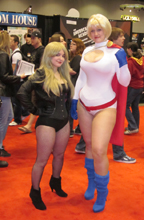 This Mojo costume won the prize for sheer scale.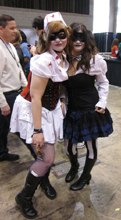 Two sexy masked characters.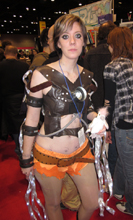 A female Whiplash.
The Joker leads this group of four DC characters, including a Batman that's been skipping his workouts lately.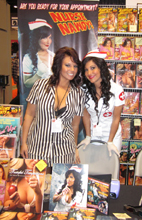 A Nurse Nawdy comic is due out soon, we were told at this booth.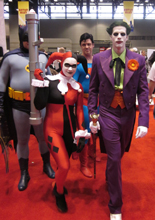 A sign of the times.
Click here
to see Part 2 of our photos from C2E2.