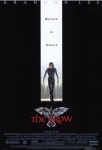 Juan Carlos Fresnadillo, who is best known as the director of 28 Weeks Later, will helm a new version of The Crow, a mystical revenge epic based on the comic book series created by James O'Barr.
According to
Deadline,
production on the new film version of
The Crow
, which is being produced by Relativity Media and Edward Pressman, will begin in the fall.
O'Barr wrote The Crow as a way of dealing with the death of his girlfriend, who was killed by a drunk driver. The powerful revenge saga was the basis of a 1994 film that has achieved cult status in part due to the death of star Brandon Lee on the film's set, and partially because of the comic and movie's prominent "Goth" design elements. Three film sequels, a TV series and numerous books and comics have followed.
The Crow: Author's Edition, which will include 60 additional pages of new material that has never been published before, should be out sometime in the next 12 months.