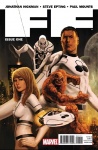 These are estimates of the sales on comic books by Diamond
U.S.
to comic specialty stores during March 2011.

For an overview and analysis of comic sales in March, see "'FF' #1 Top Comic in March."

For an analysis of the dollar trends in March, see "Top 300 Comics & GNs Down 9.65% in Q1."

For our estimates of actual sales by Diamond U.S. from comic specialty stores on graphic novels shipped during March, see "Top 300 Graphic Novels Actual--March 2011."


| | | | | | |
| --- | --- | --- | --- | --- | --- |
| | | TOP 300 COMICS -- March 2011 | | | |
| Rank | Index | Title | Price | Pub | Est.Qty |
| 1 | 195.36 | FF #1 | $3.99 | MAR | 114,472 |
| 2 | 131.24 | GREEN LANTERN #64 | $2.99 | DC | 76,898 |
| 3 | 129.08 | GREEN LANTERN #63 | $2.99 | DC | 75,632 |
| 4 | 121.36 | BATMAN THE DARK KNIGHT #2 | $2.99 | DC | 71,108 |
| 5 | 119.81 | BRIGHTEST DAY #21 | $2.99 | DC | 70,204 |
| 6 | 119.17 | BRIGHTEST DAY #22 | $2.99 | DC | 69,824 |
| 7 | 113.96 | BATMAN INCORPORATED #3 | $2.99 | DC | 66,772 |
| 8 | 113.69 | AVENGERS #11 | $3.99 | MAR | 66,618 |
| 9 | 111.47 | BATMAN INCORPORATED #4 | $2.99 | DC | 65,315 |
| 10 | 107.03 | FEAR ITSELF BOOK OF THE SKULL #1 | $3.99 | MAR | 62,714 |
| 11 | 106.21 | KICK-ASS 2 #2 (MR) | $2.99 | MAR | 62,235 |
| 12 | 102.57 | GREEN LANTERN CORPS #58 | $2.99 | DC | 60,100 |
| 13 | 102.28 | NEW AVENGERS #10 | $3.99 | MAR | 59,929 |
| 14 | 102.09 | BATMAN AND ROBIN #21 | $2.99 | DC | 59,818 |
| 15 | 101.76 | AMAZING SPIDER-MAN #656 BIG | $3.99 | MAR | 59,626 |
| 16 | 100.49 | GODZILLA KINGDOM OF MONSTERS #1 | $3.99 | IDW | 58,879 |
| 17 | 100.19 | AMAZING SPIDER-MAN #657 BIG | $3.99 | MAR | 58,704 |
| 18 | 100.00 | BATMAN #708 | $2.99 | DC | 58,594 |
| 19 | 95.11 | UNCANNY X-MEN #534 | $3.99 | MAR | 55,731 |
| 20 | 92.13 | VENOM #1 | $3.99 | MAR | 53,981 |
| 21 | 87.64 | SECRET AVENGERS #11 | $3.99 | MAR | 51,353 |
| 22 | 87.59 | GREEN LANTERN EMERALD WARRIORS #8 | $2.99 | DC | 51,322 |
| 23 | 87.46 | UNCANNY X-FORCE #6 | $3.99 | MAR | 51,248 |
| 24 | 87.35 | X-MEN #9 | $3.99 | MAR | 51,179 |
| 25 | 86.58 | UNCANNY X-FORCE #5.1 | $2.99 | MAR | 50,732 |
| 26 | 86.24 | JUSTICE LEAGUE OF AMERICA #55 | $2.99 | DC | 50,533 |
| 27 | 81.74 | X-MEN LEGACY #246 | $2.99 | MAR | 47,893 |
| 28 | 80.79 | WOLVERINE #7 | $3.99 | MAR | 47,337 |
| 29 | 76.66 | ULTIMATE COMICS SPIDER-MAN #156 | $3.99 | MAR | 44,920 |
| 30 | 75.77 | CAPTAIN AMERICA #616 | $4.99 | MAR | 44,394 |
| 31 | 75.29 | ULTIMATE AVENGERS VS NEW ULTIMATES #2 | $3.99 | MAR | 44,116 |
| 32 | 75.21 | ULTIMATE COMICS SPIDER-MAN #155 | $3.99 | MAR | 44,067 |
| 33 | 74.92 | INVINCIBLE IRON MAN #502 | $3.99 | MAR | 43,899 |
| 34 | 73.59 | CAPTAIN AMERICA #615.1 | $2.99 | MAR | 43,117 |
| 35 | 71.86 | THOR #621 | $3.99 | MAR | 42,104 |
| 36 | 71.20 | UNCANNY X-MEN ANNUAL #3 | $3.99 | MAR | 41,720 |
| 37 | 71.01 | THOR #620.1 | $2.99 | MAR | 41,605 |
| 38 | 68.35 | DETECTIVE COMICS #875 | $2.99 | DC | 40,047 |
| 39 | 68.00 | SUPERMAN #709 | $2.99 | DC | 39,846 |
| 40 | 64.27 | NEW MUTANTS #23 | $2.99 | MAR | 37,659 |
| 41 | 64.22 | ULTIMATE COMICS X #4 | $3.99 | MAR | 37,631 |
| 42 | 57.49 | WALKING DEAD #83 (MR) | $2.99 | IMA | 33,686 |
| 43 | 57.07 | AGE OF X UNIVERSE #1 | $3.99 | MAR | 33,437 |
| 44 | 56.46 | GREEN ARROW #10 | $2.99 | DC | 33,085 |
| 45 | 55.53 | WONDER WOMAN #608 | $2.99 | DC | 32,540 |
| 46 | 54.89 | HULK #30.1 | $2.99 | MAR | 32,163 |
| 47 | 54.73 | INCREDIBLE HULKS #624 | $2.99 | MAR | 32,066 |
| 48 | 54.29 | ACTION COMICS #899 | $2.99 | DC | 31,808 |
| 49 | 53.62 | WONDER WOMAN #609 | $2.99 | DC | 31,421 |
| 50 | 53.53 | HULK #31 | $3.99 | MAR | 31,368 |
| 51 | 53.20 | WALKING DEAD #82 (MR) | $2.99 | IMA | 31,174 |
| 52 | 52.53 | BIRDS OF PREY #10 | $2.99 | DC | 30,777 |
| 53 | 51.75 | JUSTICE LEAGUE GENERATION LOST #21 | $2.99 | DC | 30,323 |
| 54 | 51.71 | DEADPOOL #34 | $2.99 | MAR | 30,299 |
| 55 | 51.66 | JUSTICE LEAGUE GENERATION LOST #22 | $2.99 | DC | 30,270 |
| 56 | 50.84 | INCREDIBLE HULKS #625 | $2.99 | MAR | 29,792 |
| 57 | 50.61 | RED ROBIN #21 | $2.99 | DC | 29,652 |
| 58 | 49.46 | DEADPOOL #33.1 | $2.99 | MAR | 28,979 |
| 59 | 49.34 | SUPERMAN BATMAN #82 | $2.99 | DC | 28,913 |
| 60 | 48.87 | JUSTICE SOCIETY OF AMERICA #49 | $2.99 | DC | 28,634 |
| 61 | 48.67 | RUSE #1 | $2.99 | MAR | 28,520 |
| 62 | 48.63 | SIGIL #1 | $2.99 | MAR | 28,496 |
| 63 | 48.29 | BATMAN BEYOND #3 | $2.99 | DC | 28,295 |
| 64 | 47.35 | X-23 #8 | $2.99 | MAR | 27,745 |
| 65 | 47.34 | AVENGERS CHILDRENS CRUSADE YOUNG AVENGERS #1 | $3.99 | MAR | 27,738 |
| 66 | 46.95 | X-23 #7 | $2.99 | MAR | 27,510 |
| 67 | 46.91 | DAKEN DARK WOLVERINE #6 | $2.99 | MAR | 27,486 |
| 68 | 46.47 | DAREDEVIL REBORN #3 | $3.99 | MAR | 27,231 |
| 69 | 46.47 | ULTIMATE COMICS CAPTAIN AMERICA #3 | $3.99 | MAR | 27,226 |
| 70 | 46.46 | DAKEN DARK WOLVERINE #7 | $2.99 | MAR | 27,224 |
| 71 | 46.45 | SUPERBOY #5 | $2.99 | DC | 27,215 |
| 72 | 45.58 | THUNDERBOLTS #155 | $2.99 | MAR | 26,710 |
| 73 | 45.30 | ANNIHILATORS #1 | $4.99 | MAR | 26,543 |
| 74 | 43.44 | THUNDERBOLTS #154 | $2.99 | MAR | 25,455 |
| 75 | 43.10 | X-FACTOR #216 | $2.99 | MAR | 25,256 |
| 76 | 43.05 | WOLVERINE BEST THERE IS #4 | $3.99 | MAR | 25,226 |
| 77 | 42.88 | X-FACTOR #217 | $2.99 | MAR | 25,125 |
| 78 | 42.59 | TEEN TITANS #93 | $2.99 | DC | 24,957 |
| 79 | 42.37 | DC UNIVERSE ONLINE LEGENDS #3 | $2.99 | DC | 24,824 |
| 80 | 42.36 | BATGIRL #19 | $2.99 | DC | 24,821 |
| 81 | 41.98 | IRON MAN 2.0 #2 | $2.99 | MAR | 24,600 |
| 82 | 41.02 | ASTONISHING SPIDER-MAN WOLVERINE #5 | $3.99 | MAR | 24,036 |
| 83 | 40.94 | BLACK PANTHER MAN WITHOUT FEAR #516 | $2.99 | MAR | 23,987 |
| 84 | 40.46 | AVENGERS ACADEMY #10 | $2.99 | MAR | 23,708 |
| 85 | 40.39 | LEGION OF SUPER HEROES #11 | $2.99 | DC | 23,667 |
| 86 | 40.34 | AVENGERS ACADEMY #11 | $2.99 | MAR | 23,636 |
| 87 | 40.08 | SILVER SURFER #2 | $2.99 | MAR | 23,484 |
| 88 | 39.25 | DC UNIVERSE ONLINE LEGENDS #4 | $2.99 | DC | 23,001 |
| 89 | 38.97 | ADVENTURE COMICS #524 | $2.99 | DC | 22,836 |
| 90 | 38.73 | SECRET WARRIORS #25 | $3.99 | MAR | 22,691 |
| 91 | 37.25 | HEROES FOR HIRE #4 | $2.99 | MAR | 21,827 |
| 92 | 37.18 | SUPERGIRL #62 | $2.99 | DC | 21,786 |
| 93 | 36.58 | BATMAN STREETS OF GOTHAM #20 | $2.99 | DC | 21,434 |
| 94 | 36.42 | BATMAN STREETS OF GOTHAM #21 | $2.99 | DC | 21,342 |
| 95 | 36.33 | GENERATION HOPE #5 | $2.99 | MAR | 21,290 |
| 96 | 36.01 | LEGION OF SUPER VILLAINS #1 | $4.99 | DC | 21,097 |
| 97 | 35.95 | DC UNIVERSE LEGACIES #10 | $3.99 | DC | 21,065 |
| 98 | 35.83 | MARVEL ZOMBIES SUPREME #1 | $3.99 | MAR | 20,995 |
| 99 | 35.51 | GOTHAM CITY SIRENS #21 | $2.99 | DC | 20,807 |
| 100 | 35.44 | ULTIMATE COMICS DOOM #4 | $3.99 | MAR | 20,768 |
| 101 | 35.37 | TITANS #33 | $2.99 | DC | 20,723 |
| 102 | 35.25 | 5 RONIN #1 | $2.99 | MAR | 20,655 |
| 103 | 34.94 | SCARLET #5 (MR) | $3.95 | MAR | 20,473 |
| 104 | 34.26 | OUTSIDERS #37 | $2.99 | DC | 20,074 |
| 105 | 33.85 | DOLLHOUSE EPITAPHS ONE SHOT | $3.50 | DAR | 19,836 |
| 106 | 33.83 | SECRET SIX #31 | $2.99 | DC | 19,822 |
| 107 | 32.84 | PUNISHERMAX #11 (MR) | $3.99 | MAR | 19,243 |
| 108 | 32.35 | BOYS #52 (MR) | $3.99 | DYN | 18,955 |
| 109 | 32.27 | FABLES #103 (MR) | $2.99 | DC | 18,910 |
| 110 | 31.97 | 5 RONIN #2 | $2.99 | MAR | 18,730 |
| 111 | 31.82 | ZATANNA #10 | $2.99 | DC | 18,645 |
| 112 | 31.46 | WARLORD OF MARS DEJAH THORIS #1 | $3.99 | DYN | 18,432 |
| 113 | 31.46 | ZATANNA #11 | $2.99 | DC | 18,431 |
| 114 | 31.35 | STAR WARS DARTH VADER & LOST COMMAND #3 | $3.50 | DAR | 18,368 |
| 115 | 31.21 | MARVEL ZOMBIES SUPREME #2 | $3.99 | MAR | 18,287 |
| 116 | 31.04 | 5 RONIN #3 | $2.99 | MAR | 18,186 |
| 117 | 30.89 | ONSLAUGHT UNLEASHED #2 | $3.99 | MAR | 18,098 |
| 118 | 30.82 | STAR WARS LEGACY WAR #4 | $3.50 | DAR | 18,058 |
| 119 | 30.27 | WOLVERINE & JUBILEE #3 | $2.99 | MAR | 17,734 |
| 120 | 30.23 | 5 RONIN #4 | $2.99 | MAR | 17,713 |
| 121 | 30.20 | ASTONISHING THOR #3 | $3.99 | MAR | 17,698 |
| 122 | 29.91 | DEADPOOLMAX #6 (MR) | $3.99 | MAR | 17,528 |
| 123 | 29.85 | DARK TOWER GUNSLINGER LITTLE SISTERS ELURIA #4 | $3.99 | MAR | 17,490 |
| 124 | 29.77 | 5 RONIN #5 | $2.99 | MAR | 17,441 |
| 125 | 29.49 | DEADPOOL CORPS #12 | $2.99 | MAR | 17,277 |
| 126 | 29.47 | AMERICAN VAMPIRE #13 (MR) | $2.99 | DC | 17,269 |
| 127 | 29.41 | POWER GIRL #22 | $2.99 | DC | 17,232 |
| 128 | 29.31 | DEADPOOL TEAM-UP #883 | $2.99 | MAR | 17,172 |
| 129 | 28.99 | JSA ALL STARS #16 | $2.99 | DC | 16,987 |
| 130 | 28.83 | FIRST WAVE #6 | $3.99 | DC | 16,895 |
| 131 | 28.40 | TRUE BLOOD TAINTED LOVE #2 (MR) | $3.99 | IDW | 16,639 |
| 132 | 27.47 | BOOSTER GOLD #42 | $2.99 | DC | 16,093 |
| 133 | 26.98 | INVINCIBLE #78 | $2.99 | IMA | 15,808 |
| 134 | 26.91 | VAMPIRELLA #4 | $3.99 | DYN | 15,765 |
| 135 | 26.64 | INCOGNITO BAD INFLUENCES #4 (MR) | $3.50 | MAR | 15,607 |
| 136 | 26.61 | SPAWN #204 | $2.99 | IMA | 15,591 |
| 137 | 26.17 | STAND NO MANS LAND #2 | $3.99 | MAR | 15,332 |
| 138 | 26.15 | SPAWN #205 | $2.99 | IMA | 15,320 |
| 139 | 25.62 | CAPTAIN AMERICA AND FALCON #1 | $3.99 | MAR | 15,010 |
| 140 | 25.41 | INCOGNITO BAD INFLUENCES #5 (MR) | $3.50 | MAR | 14,889 |
| 141 | 25.20 | STAND NO MANS LAND #3 | $3.99 | MAR | 14,768 |
| 142 | 25.09 | HAUNT #14 | $2.99 | IMA | 14,700 |
| 143 | 24.97 | POWERS #7 (MR) | $3.95 | MAR | 14,631 |
| 144 | 24.70 | OSBORN #4 BIG | $3.99 | MAR | 14,475 |
| 145 | 24.69 | PUNISHER IN BLOOD #5 | $3.99 | MAR | 14,468 |
| 146 | 24.49 | WOLVERINE HERCULES MYTHS MONSTERS AND MUTANTS #1 | $2.99 | MAR | 14,351 |
| 147 | 24.20 | GARTH ENNIS JENNIFER BLOOD #2 (MR) | $3.99 | DYN | 14,180 |
| 148 | 24.08 | WARLORD OF MARS #5 | $3.99 | DYN | 14,110 |
| 149 | 23.94 | CINDERELLA FABLES ARE FOREVER #2 (MR) | $2.99 | DC | 14,029 |
| 150 | 23.64 | HELLRAISER #1 (MR) | $3.99 | BOO | 13,850 |
| 151 | 23.50 | CYCLOPS #1 | $2.99 | MAR | 13,770 |
| 152 | 23.48 | SPIDER-GIRL #5 BIG | $2.99 | MAR | 13,757 |
| 153 | 23.42 | CAPTAIN AMERICA AND SECRET AVENGERS #1 | $3.99 | MAR | 13,722 |
| 154 | 22.93 | GI JOE INFESTATION #1 | $3.99 | IDW | 13,438 |
| 155 | 22.84 | NAMOR FIRST MUTANT #8 | $2.99 | MAR | 13,385 |
| 156 | 22.70 | JOE THE BARBARIAN #8 (MR) | $3.99 | DC | 13,300 |
| 157 | 22.52 | CONAN ROAD OF KINGS #3 | $3.50 | DAR | 13,193 |
| 158 | 22.24 | ANGEL #43 | $3.99 | IDW | 13,032 |
| 159 | 21.94 | CAPTAIN AMERICA AND FIRST THIRTEEN #1 | $3.99 | MAR | 12,857 |
| 160 | 21.91 | CAPTAIN AMERICA AND CROSSBONES #1 | $3.99 | MAR | 12,836 |
| 161 | 21.76 | ICEMAN AND ANGEL #1 | $2.99 | MAR | 12,749 |
| 162 | 21.57 | CAPTAIN AMERICA AND BATROC #1 | $3.99 | MAR | 12,640 |
| 163 | 21.47 | BATMAN CONFIDENTIAL #54 | $2.99 | DC | 12,578 |
| 164 | 21.29 | KING CONAN SCARLET CITADEL #2 | $3.50 | DAR | 12,472 |
| 165 | 21.28 | HAWKEYE: BLIND SPOT #2 | $2.99 | MAR | 12,467 |
| 166 | 21.21 | GI JOE INFESTATION #2 | $3.99 | IDW | 12,427 |
| 167 | 21.01 | JIMMY OLSEN #1 | $5.99 | DC | 12,313 |
| 168 | 20.82 | GIANT SIZE ATOM #1 | $4.99 | DC | 12,200 |
| 169 | 20.76 | CHEW #17 (MR) | $2.99 | IMA | 12,165 |
| 170 | 20.57 | LOKI #4 | $3.99 | MAR | 12,055 |
| 171 | 20.54 | XOMBI #1 | $2.99 | DC | 12,035 |
| 172 | 19.82 | GHOSTBUSTERS INFESTATION #1 | $3.99 | IDW | 11,616 |
| 173 | 19.74 | BPRD HELL ON EARTH GODS #3 | $3.50 | DAR | 11,565 |
| 174 | 19.60 | GREEN HORNET #14 | $3.99 | DYN | 11,485 |
| 175 | 19.38 | CAPTAIN AMERICA MAN OUT OF TIME #5 | $3.99 | MAR | 11,355 |
| 176 | 19.32 | UNWRITTEN #23 (MR) | $2.99 | DC | 11,319 |
| 177 | 19.08 | ALAN MOORE NEONOMICON #4 (MR) | $3.99 | AVA | 11,179 |
| 178 | 18.62 | ARTIFACTS #6 | $3.99 | IMA | 10,910 |
| 179 | 18.56 | IZOMBIE #11 (MR) | $2.99 | DC | 10,874 |
| 180 | 18.45 | MORNING GLORIES #8 | $2.99 | IMA | 10,809 |
| 181 | 18.43 | LADY DEATH (ONGOING) #3 | $3.99 | AVA | 10,801 |
| 182 | 17.97 | CAPTAIN AMERICA COMICS #1 70TH ANNIV ED | $4.99 | MAR | 10,530 |
| 183 | 17.87 | WEIRD WORLDS #3 | $3.99 | DC | 10,470 |
| 184 | 17.83 | GHOSTBUSTERS INFESTATION #2 | $3.99 | IDW | 10,445 |
| 185 | 17.73 | GI JOE A REAL AMERICAN HERO #164 | $3.99 | IDW | 10,386 |
| 186 | 17.71 | CAPTAIN AMERICA HAIL HYDRA #3 | $2.99 | MAR | 10,375 |
| 187 | 17.67 | JONAH HEX #65 | $2.99 | DC | 10,353 |
| 188 | 17.51 | REBELS #26 | $2.99 | DC | 10,257 |
| 189 | 17.45 | POWER MAN AND IRON FIST #3 | $2.99 | MAR | 10,226 |
| 190 | 17.44 | JACK OF FABLES #50 (MR) | $4.99 | DC | 10,217 |
| 191 | 17.23 | TRANSFORMERS ONGOING #17 | $3.99 | IDW | 10,094 |
| 192 | 17.08 | JLA THE 99 #6 | $2.99 | DC | 10,005 |
| 193 | 17.04 | IRREDEEMABLE #23 | $3.99 | BOO | 9,983 |
| 194 | 16.95 | THUNDER AGENTS #5 | $2.99 | DC | 9,934 |
| 195 | 16.90 | GUILD TINK ONE SHOT | $3.50 | DAR | 9,904 |
| 196 | 16.78 | KNIGHT & SQUIRE #6 | $2.99 | DC | 9,832 |
| 197 | 16.76 | THUNDERSTRIKE #4 | $3.99 | MAR | 9,818 |
| 198 | 16.56 | WITCHFINDER LOST & GONE FOREVER #2 | $2.99 | DAR | 9,701 |
| 199 | 16.40 | YOUNG JUSTICE #2 | $2.99 | DC | 9,612 |
| 200 | 16.26 | HELLBLAZER #277 (MR) | $2.99 | DC | 9,525 |
| 201 | 16.03 | WITCHBLADE #143 | $2.99 | IMA | 9,394 |
| 202 | 16.02 | DOOM PATROL #20 | $2.99 | DC | 9,386 |
| 203 | 15.92 | FEAR ITSELF SKETCHBOOK (BUNDLE OF 25) (NET) | $10.00 | MAR | 9,331 |
| 204 | 15.74 | DEATH OF ZORRO #1 | $3.99 | DYN | 9,220 |
| 205 | 15.53 | GUARDING THE GLOBE #4 | $3.50 | IMA | 9,102 |
| 206 | 15.18 | AXE COP BAD GUY EARTH #1 | $3.50 | DAR | 8,897 |
| 207 | 15.17 | FREEDOM FIGHTERS #7 | $2.99 | DC | 8,886 |
| 208 | 15.10 | CAPTAIN SWING #3 (MR) | $3.99 | AVA | 8,849 |
| 209 | 14.90 | SPIDER-MAN YOURE HIRED | $3.99 | MAR | 8,731 |
| 210 | 14.90 | RED SONJA #55 | $3.99 | DYN | 8,729 |
| 211 | 14.85 | GRIMM FAIRY TALES #56 A CVR QUALANO | $2.99 | ZEN | 8,701 |
| 212 | 14.56 | SWEET TOOTH #19 (MR) | $2.99 | DC | 8,532 |
| 213 | 14.48 | HACK SLASH ONGOING #2 SEELEY CVR (MR) | $3.50 | IMA | 8,483 |
| 214 | 14.33 | JOHN BYRNE NEXT MEN #4 | $3.99 | IDW | 8,395 |
| 215 | 14.18 | TRANSFORMERS HEART OF DARKNESS #1 | $3.99 | IDW | 8,309 |
| 216 | 13.95 | UNCANNY X-FORCE APOCALYPSE SOLUTION #1 | $4.99 | MAR | 8,173 |
| 217 | 13.84 | INCORRUPTIBLE #16 | $3.99 | BOO | 8,108 |
| 218 | 13.68 | GFT MYTHS & LEGENDS #2 A CVR MEDINA | $2.99 | ZEN | 8,018 |
| 219 | 13.68 | TERRY MOORES ECHO #29 | $3.50 | ABS | 8,016 |
| 220 | 13.61 | CARBON GREY #1 (MR) | $2.99 | IMA | 7,973 |
| 221 | 13.41 | GFT MYTHS & LEGENDS #3 A CVR MEDINA | $2.99 | ZEN | 7,858 |
| 222 | 13.28 | SONIC THE HEDGEHOG #222 | $2.99 | ARC | 7,781 |
| 223 | 13.23 | SPIKE #6 | $3.99 | IDW | 7,750 |
| 224 | 13.22 | DOC SAVAGE #12 | $2.99 | DC | 7,747 |
| 225 | 13.17 | SONIC THE HEDGEHOG #223 | $2.99 | ARC | 7,719 |
| 226 | 13.10 | MASS EFFECT EVOLUTION #3 MASSIMO CARNEVALE CVR | $3.50 | DAR | 7,675 |
| 227 | 13.04 | LAST PHANTOM #5 | $3.99 | DYN | 7,643 |
| 228 | 13.03 | BUTCHER BAKER RIGHTEOUS MAKER #1 (MR) | $2.99 | IMA | 7,637 |
| 229 | 13.00 | GREEN HORNET YEAR ONE #9 | $3.99 | DYN | 7,620 |
| 230 | 13.00 | AZRAEL #18 | $2.99 | DC | 7,617 |
| 231 | 12.87 | QUEEN SONJA #15 | $3.99 | DYN | 7,539 |
| 232 | 12.84 | DOCTOR WHO ONGOING VOL 2 #3 | $3.99 | IDW | 7,523 |
| 233 | 12.74 | TAROT WITCH OF THE BLACK ROSE #67 (MR) | $2.95 | BRO | 7,467 |
| 234 | 12.73 | DOCTOR WHO ONGOING VOL 2 #2 | $3.99 | IDW | 7,461 |
| 235 | 12.58 | TINY TITANS #38 | $2.99 | DC | 7,372 |
| 236 | 12.53 | SPIRIT #12 | $2.99 | DC | 7,342 |
| 237 | 12.34 | WORLD OF WARCRAFT CURSE OF THE WORGEN #4 | $2.99 | DC | 7,231 |
| 238 | 12.31 | RED SONJA REVENGE O/T GODS #1 | $3.99 | DYN | 7,215 |
| 239 | 12.24 | HOUSE OF MYSTERY #35 (MR) | $2.99 | DC | 7,170 |
| 240 | 12.11 | GRIMM FAIRY TALES #57 | $2.99 | ZEN | 7,096 |
| 241 | 11.98 | NORTHLANDERS #38 (MR) | $2.99 | DC | 7,020 |
| 242 | 11.97 | ANGEL ILLYRIA #4 | $3.99 | IDW | 7,013 |
| 243 | 11.76 | WORLD OF WARCRAFT CURSE OF THE WORGEN #5 | $2.99 | DC | 6,888 |
| 244 | 11.74 | LOCKE & KEY KEYS TO THE KINGDOM #5 | $3.99 | IDW | 6,879 |
| 245 | 11.73 | BOMB QUEEN VS HACK SLASH SPEC ONE-SHOT (MR) | $3.50 | IMA | 6,874 |
| 246 | 11.73 | SIMPSONS COMICS #176 | $2.99 | BON | 6,874 |
| 247 | 11.63 | ULTIMATE SPIDER-MAN MGC #1 | $1.00 | MAR | 6,812 |
| 248 | 11.46 | CALIGULA #1 (MR) | $3.99 | AVA | 6,712 |
| 249 | 11.37 | ASTONISHING X-MEN MGC #1 | $1.00 | MAR | 6,665 |
| 250 | 11.23 | CREEPY COMICS #5 | $4.99 | DAR | 6,579 |
| 251 | 11.21 | SONIC UNIVERSE #26 | $2.99 | ARC | 6,571 |
| 252 | 11.16 | CAPTAIN AMERICA KORVAC SAGA #4 | $2.99 | MAR | 6,537 |
| 253 | 11.06 | DARKNESS #90 (MR) | $2.99 | IMA | 6,482 |
| 254 | 11.03 | ALL NEW BATMAN THE BRAVE AND THE BOLD #5 | $2.99 | DC | 6,463 |
| 255 | 10.71 | RED SONJA DELUGE ONE-SHOT | $4.99 | DYN | 6,274 |
| 256 | 10.63 | FUTURAMA COMICS #54 | $2.99 | BON | 6,228 |
| 257 | 10.62 | SCALPED #47 (MR) | $2.99 | DC | 6,222 |
| 258 | 10.60 | SOULFIRE VOL 3 #0 | $1.99 | ASP | 6,213 |
| 259 | 10.55 | TRANSFORMERS RISING STORM #2 | $3.99 | IDW | 6,184 |
| 260 | 10.53 | DUNGEONS & DRAGONS DARK SUN #3 | $3.99 | IDW | 6,172 |
| 261 | 10.51 | CHARMED #7 | $3.50 | ZEN | 6,160 |
| 262 | 10.50 | CASANOVA GULA #3 (MR) | $3.99 | MAR | |