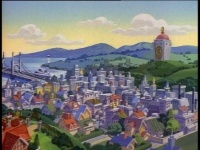 It appears that BOOM! Studios has stopped soliciting for new issues of its Kaboom! titles based on Classic Disney properties such as Donald Duck, Uncle Scrooge, Mickey Mouse, and Walt Disney's Comics and Stories. There are no listings for those titles in the Diamond Previews for titles shipping in July, and there are no longer any links for subscriptions to those titles offered on the Boom Website.
BOOM! is continuing to solicit (at least for now) for its titles based on Disney Afternoon properties such as Chip N Dale Rescue Rangers, Darkwing Duck, and Ducktales.
A BOOM! spokesperson declined to comment on any questions related to its Disney titles.
As we predicted when Disney acquired Marvel back in 2009 (see "
Disney's Marvel Comics
"), Disney appears to be in the unannounced process of bringing its comic properties in-house for Marvel to publish. The process began with Pixar titles, formerly licensed to BOOM! (see "
Marvel Gets Pixar
"), continued with Muppets (see "
Marvel to Publish Langridge's 'Muppets'
"), and now appears to be entering a new phase with the Classic Disney titles.
BOOM! has done a nice job with its Disney titles; will Marvel do as well? So far the biggest change has been in format, where Marvel has announced magazine-sized titles for both its Muppets- and Pixar-based titles.