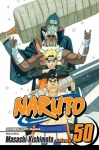 Masashi Kissimoto's
Naruto
Vol. 50 remained on top of the list of bestsellers in the adult fiction graphic novel in bookstores in March according to data compiled by Nielsen BookScan. Two more recent manga releases from Viz Media,
Yu-Gi-Oh! GX
Vol. 6 and
Bleach
Vol. 34 debuted in the second and third spots.
Other newcomers that made the Nielsen Top 20 in March were Grant Morrison's
Batman: Time & the Batman
hardcover from DC (at #5), Atsushi Ohkubo's
Soul Eater
Vol. 5 from Yen Press (at #9), and IDW's TV-based
True Blood
hardcover (at #15). Two perennials, Alan Moore's
Watchmen
and Robert Kirkman's T
he Walking Dead Compendium
returned to the list in March, which does not appear to have been a stellar month for graphic novel sales in the bookstore market.
BookScan Top 20 Graphic Novels in March 2011

Rank

Title

Author

Publisher

1

NARUTO VOL. 50

MASASHI KISHIMOTO

VIZ MEDIA

2

YU-GI-OH! GX VOL. 6

NAOYUKI KAGEYAMA

VIZ MEDIA

3

BLEACH VOL. 34

TITE KUBO

VIZ MEDIA

4

SCOTT PILGRIM VOL. 1

BRYAN LEE O'MALLEY

ONI PRESS

5

BATMAN: TIME AND THE BATMAN HC

GRANT MORRISON

DC COMICS

6

BLACK BUTLER VOL. 4

YANA TOBOSO

YEN PRESS

7

THE WALKING DEAD VOL. 13

ROBERT KIRKMAN

IMAGE COMICS

8

SCOTT PILGRIM VOL. 2

BRYAN LEE O'MALLEY

ONI PRESS

9

SOUL EATER VOL. 5

ATSUSHI OHKUBO

YEN PRESS

10

BATMAN: THE RETURN OF BRUCE WAYNE HC

GRANT MORRISON

DC COMICS

11

BLACK BIRD VOL. 7

KANOKO SAKURAKOJI

VIZ MEDIA

12

SCOTT PILGRIM VOL. 3

BRYAN LEE O'MALLEY

ONI PRESS

13

SCOTT PILGRIM VOL. 6

BRYAN LEE O'MALLEY

ONI PRESS

14

SCOTT PILGRIM VOL. 4

BRYAN LEE O'MALLEY

ONI PRESS

15

TRUE BLOOD VOL 1: ALL TOGETHER NOW HC

ALAN BALL

IDW PUBLISHING

16

THE WALKING DEAD VOL. 1

ROBERT KIRKMAN

IMAGE COMICS

17

DEATH NOTE BLACK EDITION VOL. 1

TSUGUMI OHBA

VIZ MEDIA

18

THE WALKING DEAD COMPENDIUM VOL. 1

ROBERT KIRKMAN

IMAGE COMICS

19

SCOTT PILGRIM VOL. 5

BRYAN LEE O'MALLEY

ONI PRESS

20

WATCHMEN TP

ALAN MOORE

DC COMICS
All six of Bryan Lee O' Malley's Scott Pilgrim graphic novels remained in the BookScan Top 20 with Volume #1 actually moving up from #5 in February to #4 in March. While Scott Pilgrim sales have definitely slowed down in the direct market, the series remains strong in bookstores. Over five months after the release of the Scott Pilgrim DVD, sales of the graphic novels have continued at a very high level in bookstores. Look for them to fade somewhat in the coming months, but this series has definitely established itself as a "perennial," and is not going away anytime soon.
Speaking of "perennials," it is somewhat amazing to see Alan Moore and Dave Gibbons' Watchmen back on the monthly list. It's probably a sign of relatively slow graphic novel sales in March, but it also reflects the enormous staying power of that amazing book. On the manga side, it should be noted that Viz Media's Death Note is well on its way to establishing "perennial" status with a new omnibus reprint edition of volumes #1 and #2 that has now remained in the Top 20 for two months in a row.
Mention should be made of three hardcover volumes on the list. Grant Morrison's Batman: Time and the Batman HC, which features outstanding art from a major lineup of top tier artists including Frank Quitely, Tony Daniel, David Finch, Scott Kolins, and Cliff Richards, made an impressive debut in March and joined another Morrison Batman hardcover The Return of Bruce Wayne in the Top 20. Since the release of Christopher Nolan's The Dark Knight in 2008, Batman has been without a doubt the bestselling superhero property in the bookstore graphic novel market—and The Dark Knight's dominance will only grow during the run-up to Christopher Nolan's new Batman film The Dark Knight Rises, which will be released in July of 2012.
The other hardcover is IDW's True Blood, which is based on the popular HBO vampire/werewolf/Southern Gothic show that is adapted from Charlaine Harris' The Southern Vampire Mysteries. Key to its success is the fact that True Blood series creator Alan Ball is involved in the creation of the IDW comic book and graphic novel series. With graphic novel adaptations of HBO's Game of Thrones, and TNT's Falling Skies, to name just a couple of upcoming small screen projects with great potential, TV is becoming more important than ever as a graphic novel sales driver.
Of course the prime TV-driven show in both the bookstore and direct markets is Robert Kirkman's The Walking Dead published by Image. The Walking Dead Compendium is back in the Top 20 in March along with the first and the most recent (Vol.13) books in the series. Volume 14 of the graphic novel series is due in July, and Season 2 of the TV series returns in October, so it looks like The Walking Dead will be with us for awhile.
The number of manga series in the Top 20, which went from 4 in December to 8 in January, and 9 in February, is back down to 7 in March.
For past BookScan Top 20 Graphic Novel lists, see the "
BookScan Top 20 GNs Index
."