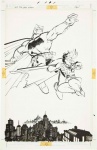 Heritage Auctions has set a new price record for an original piece of comic art by selling page 10 of Batman: The Dark Knight Returns #3, by Frank Miller and Klaus Janson, to an anonymous collector for $448,125. The previous price record for comic art was the Frank Frazetta cover for Weird Fantasy #29, which Heritage sold for $380,000 last year.
Heritage quoted Miller on the piece: "I've always loved that drawing," commented Miller when asked before the auction what his thoughts on its imminent sale were. "Danced around my studio like a fool when I drew it. I hope it finds a good home."
At least one previous sale of Miller had previously broken $100k: Heritage auctioned the cover of Daredevil #188 for $101,575 last year.