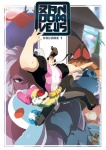 UDON Entertainment will no longer publish monthly "floppy" versions of its original graphic novels, moving to a new format, UDON Presents, for the purpose. UDON Presents titles will be oversized (8.25" x 11.25") hardcovers.
First in the series is Randomveus Vol. 1, written by Jeffrey "Chamba" Cruz and Leonard Bermingham, with art by Cruz. Randomveus tells the story of a team of interdimensional couriers delivering packages to every corner of the world.
The 144-page hardcover, due out in July, will retail for $29.99. More original graphic novels in the format are planned.
"While comic book sales are down all over the industry," UDON Managing Editor Matt Moylan said, "UDON continues to do very well with our trade paperbacks and art books. We're taking the best of both by producing full length graphic novels at the same oversized dimensions that readers of our art books and "Ultimate Edition" collections have come to enjoy."
In addition to its OGNs, UDON says its future videogame-based comics will also be published in the large hardcover format.