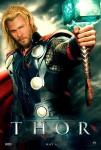 Kenneth Branagh's
Thor
followed up its solid opening with a better than average hold, dropping just 47.5% while earning an estimated $34.5 million. Thor's total was more than enough to capture the weekend box office crown again as it easily topped a better than expected showing from Universal's R-rated comedy
Bridesmaids
, which brought in an estimated $24.4 million. With Uni's
Fast Five
earning nearly $20 million in its third frame and Sony's
Priest
posting a solid $14.5 million debut, the box office was off just 3% from the same frame last year when Marvel Studio's
Iron Man 2
dominated in its second weekend.
Weekend Box Office (Studio Estimates): May 13 -15, 2011

Film

Weekend Gross

Screens

Avg./

Screen

Total Gross

Wk#

1

Thor

$34,500,000

3,963

$8,706

$119,252,000

2

2

Bridesmaids

$24,409,000

2,918

$8,365

$24,409,000

1

3

Fast Five

$19,534,000

3,793

$5,150

$168,780,000

3

4

Priest

$14,500,000

2,864

$5,063

$14,500,000

1

5

Rio

$8,000,000

2,929

$2,731

$124,968,000

5

6

Jumping the Broom

$7,300,000

2,035

$3,587

$25,994,000

2

7

Something Borrowed

$7,000,000

2,904

$2,410

$25,647,000

2

8

Water for Elephants

$4,100,000

2,425

$1,691

$48,476,000

4

9

Tyler Perry's Madea's Big Happy Family

$2,200,000

1,449

$1,518

$50,218,000

4

10

Soul Surfer

$1,800,000

1,468

$1,226

$39,200,000

6
Thor managed to avoid the steep drops that have plagued other high-profile action movies. Compared with other recent Marvel Studios' releases Thor's second week decline most closely resembles the original Iron Man, which dropped 48% in 2008, and is considerably better than Iron Man 2 (-59%), Spider-Man 3 (-62%), and X-Men Origins: Wolverine (-69%). Thor has now earned $119.3 million and could end up in the $170-$200 million range, though the competition really heats up next weekend when the Marvel superhero film will have to surrender its top spot and most of its IMAX screens to Pirates of the Caribbean: On Stranger Tides.
The Judd Apatow-produced Bridesmaids, which features a bevy of Saturday Night Live beauties led by Kristen Wiig and Maya Rudolph (along with the IT Crowd's Chris O'Dowd), beat expectations thanks to a strong $8,365 per venue average. Bridesmaids scored the biggest opening for an "R" rated comedy since Due Date, which opened in November of 2010. The audience for Bridesmaids was 67% female and 63% over 30. The film earned a solid "B+" CinemaScore, and with a 90% positive rating on Rotten Tomatoes, it should have good prospects over the next few weeks until the "R" rated Hangover 2 opens on May 28th.
The manhwa-based Priest opened first overseas where it has earned $25.6 million in two weeks. Its $14.5 million domestic debut was in line with, or slightly ahead of expectations for the western/vampire mash-up. The movie attracted an audience that was 57% male and 57% over 25. The studio did not make a CinemaScore available (usually a bad sign) and the film only earned a 30% positive rating on Rotten Tomatoes. Still reviews matter little with horror films and Priest will face little or no competition for the horror movie audience over the next few weeks. Priest's audience held steady from Friday to Saturday night, which is a good sign.
Fast Five, which revived the Fast & Furious franchise by morphing from a street racing movie to caper film, has now earned $168.8 million domestically, which makes it the #1 grossing film of 2011 so far and the highest-grossing film in the Fast & Furious franchise (though because of higher ticket prices, it is not the highest in attendance yet).
The comic book-based Dylan Dog: Dead of Night is now down to just 34 theaters where it averaged an insignificant $226 per venue.