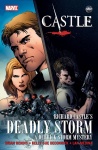 Marvel Comics and ABC Studios, both of which are divisions of The Walt Disney Company, have announced the September 28th release of a new 112-page hardcover graphic novel based on ABC television series Castle. The cover of the graphic novel will be revealed tonight on the season finale of Castle when celebrity mystery author Richard Castle (played by Nathan Filion) displays the first graphic novel adaptation of his work.
ABC's Castle, which was recently renewed for a fourth season, is a comedy/police procedural drama that stars Filion as a blocked mystery writer who is called in to help the NYPD solve a copy cat crime based on one of his Derrick Storm mystery novels. In the series Castle suffers from writer's block and has actually killed off his hero, so a graphic novel adaptation of one of his Derrick Storm novels would make sense for the character.
Marvel has assembled quite a team to produce this work of meta-fiction. Brian Michael Bendis (Avengers) and Kelly Sue DeConnick (Captain America) are writing the Derrick Storm saga, Castle: Richard Castle's Deadly Storm ($19.99, rated T+), while Lan Medina (Fables) will handle the interior art and Carlo Pagulayan (Planet Hulk) will provide the cover.