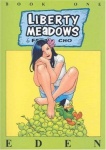 The TV and movie rights to Liberty Meadows have reverted to creator Frank Cho. Cho has begun working on Issue #38 of the Liberty Meadows comic, which he hopes to have out by the end of the year.
On his
Apes & Babes
Website, Cho recounted the story of his relationship with Sony, which began three years ago when the electronics and entertainment giant acquired the rights to
Liberty Meadows
for its Sony Digital division. The original concept was a "downloadable original cartoon series," but Cho's script was rejected as too "risqué." Other writers were brought in, and then Cho himself rewrote what they had done and an animated 2D pilot episode was eventually produced.
Then Sony's Television division saw the pilot and decided to develop it as a TV series—except they wanted a more adult approach like The Family Guy. So Cho went back to his original script and added some more sexy bits. But then came the recession and the execs at Sony TV who had championed the project moved on and the new guys wanted nothing to do with project from the old regime. So thanks to an inactivity clause, the rights have now reverted back to Cho, who says he would still entertain the notion of a Liberty Meadows TV show or movie, but who is also "going to enjoy writing and drawing the next misadventures of Brandy and crew at Liberty Meadows with no suits looking over my shoulder telling me what market I should target."