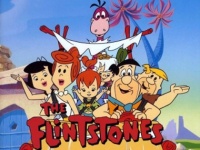 The Family Guy's Seth MacFarlane, who got his start in the animation business working on Johnny Bravo, Dexter's Laboratory, and Cow and Chicken at Hanna-Barbera, will revamp Hanna-Barbera's crown jewel property, The Flintstones, the Emmy-winning primetime animated TV series that aired from 1960-1966 on ABC.

The new Flintstones series, which will keep the original Hanna-Barbera character designs, will be a joint production of 20th Century Fox Television and Warner Bros. Television (Warners controls the rights to the characters). Production will begin in the fall of 2011 and the series will air on Fox in 2013.
According to
Deadline
, this deal has been years in the making mostly because of reluctance on the part of
The Flintstones
rights holders to turn over the reins to MacFarlane, whose Fox series gleefully tackle raunchy adult themes far beyond anything in the innocent
Honeymooners
-inspired domestic squabbles portrayed in the original
Flintstones
series.