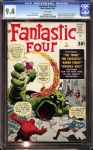 Metropolis Comics has confirmed to ICv2 that it sold a copy of Fantastic Four #1 to a private collector for $300,000 in an all-cash deal. The copy was graded CGC 9.4. Only one copy of FF #1 has a higher grade, a 9.6 that was sold in 2008 in a deal that involved both cash and other comics.
Published in 1961 and sold originally for 12 cents, Fantastic Four #1 is the ur-book of the modern Marvel universe created by Stan Lee and Jack Kirby, second in importance among Marvel Silver Age tomes only to Amazing Fantasy #15, which introduced Spider-Man.
There is no doubt that the market for Silver Age books is indeed booming, especially at the high end. In March of this year, an
Amazing Fantasy
#15 graded 9.6 sold for a Silver Age record $1.1 million (see "
Amazing Fantasy #15 Sells for $1.1 Million
"). A
Fantastic Four
#1 graded 9.4 sold for $210,000 just last year, an indication of how quickly values are rising in the Silver Age market. There are four known copies of
FF
#1 with a CGC rating of 9.4.