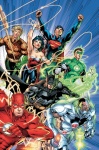 DC has revealed more details about its universal reboot (see "
DC Renumbering All Titles
") including first images of the characters in Justice League, the first title to be re-launched, through
USA Today
and
IGN
.
DC is planning a "more modern, diverse DC universe," according to a letter to retailers by DC SVP Bob Wayne, in which characters will have some "variations in appearance, origin, and age." The changes "will make jumping into the story extremely accessible to first-time readers," according to Wayne.
New costumes have been designed for over 50 characters, many by uber-artist Jim Lee. Again, the emphasis is on appeal to new readers: Lee's work on the costumes ensures "that the updated images appeal to the current generation of readers," Wayne said.
The reboot, which begins August 31st with the release of Justice League #1, continues in September with another 51 first issues. DC will also begin releasing all of its titles at the same time on digital platforms as the print editions are released.