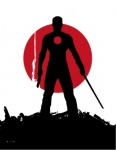 Valiant Entertainment, the company that purchased the rights to the Valiant Comics characters when Acclaim went bankrupt, is ready to resume publishing in 2012 in a major way thanks to an infusion of capital from Cuneo and Company, a firm headed by former Marvel CEO Peter Cuneo. Over the past few years Valiant Entertainment has published three collections of comics released by the original Valiant, a one-time publishing powerhouse during the "go-go comic book speculator-fueled boom" of the early 1990s. In 1994 the video game company Acclaim, which was also riding high at the time, purchased Valiant, but the comics market turned sour and Acclaim lost its video game mojo as well and went bankrupt in 2005.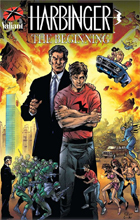 Valiant Entertainment was formed by Jason Kothari and Dinesh Shamdasani in 2007 when the company acquired the rights to the Valiant characters (note Valiant also had published comics based on Gold Key characters, but the rights to these properties like
Turok, Magnus Robot Fighter
, and
Doctor Solar
will not be part of the revived Valiant). After a nasty battle over the Valiant trademarks, Valiant Entertainment finally prevailed in 2008 (see "
Valiant Dispute Settled
"). According to
Comic Book Resources
, the new Valiant will concentrate on the top 9 or ten Valiant characters such as
Harbinger, X-O Manowar
, and Bloodshot with all new comics that will be published both in print and digital formats starting in 2012.
Why this urge to enter a struggling comic book market that has seen sales drop substantially during the first quarter of 2011? Cuneo told CBR "We think the comic book industry is the best means to nurture and grow characters that can expand into other mass media channels," and Kothari noted that "Valiant has a number of major motion picture projects in development with Hollywood's leading producers and directors," though he was not ready to divulge the details yet.
Nor is the new Valiant Entertainment ready to get specific about is 2012 publishing plans, though both Cuneo and Kothari went out of their way when discussing the potential of digital comics to note the importance of comic book retailers and the necessity of doing their part "to help drive business to the comic book stores."