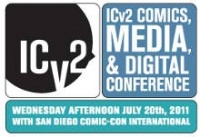 An ICv2 Release. Digital comics and the growing transmedia uses of comics in film, TV, and videogames are transforming the industry into something very different from what has gone before. To navigate this rapidly changing environment, ICv2 is bringing together the best minds in all three parts of the industry—comics, media, and digital—to discuss where the comics medium is, where it's going, and how to take advantage of the tremendous opportunities presented by this period of rapid change.
The ICv2 Comics, Media, and Digital Conference will be held in association with San Diego Comic-Con International on Wednesday afternoon, July 20th at the San Diego Marriott Hotel and Marina, next to the San Diego Convention Center, prior to Comic-Con Preview Night. Plan to join us! For more information, see "The ICv2 Comics, Media, and Digital Conference 2011."
Here are the speakers at the Conference.

Ted Adams

Adams is a founding partner of IDW Publishing and currently serves as the company's CEO. IDW has been at the forefront of the digital distribution of comic book content since 2009 when the company's titles were among the first titles available via iTunes. IDW comics are currently available on all major digital devices including iTunes, PSP, Nokia, BlackBerry, and Kindle.

Scott Agostoni

Scott Agostoni has worked as a talent representative for graphic novel creators and publishers for the past seven years. He has served as the principle negotiator on a number of high profile feature, television and content development deals. His client list includes creators such as Man of Action (Joe Kelly, Joe Casey, Steve Seagle and Duncan Rouleau), Paul Jenkins, Kevin Grevioux, Aspen Comics, Valiant Entertainment and Viper Comics. Scott started his career as a talent agent at the William Morris Agency (later WME) and currently manages his client base independently while consulting on graphic novel development for feature based production companies.

Joe Field

Joe Field has devoted the last 25 years of his professional career to making the comics' industry a better place. A co-founder of WonderCon in 1987, Joe operates Flying Colors Comics & Other Cool Stuff in Concord CA, an Eisner award-winning store. In 2001, Joe founded the wildly popular Free Comic Book Day. Since 2005, Joe has helped grow ComicsPRO, the trade association for comics' specialty retailers, and currently serves the organization as president.

Milton Griepp

Milton Griepp is the founder and President of ICv2, since 2001 the undisputed industry authority on the graphic novel and comic business. He is a 35-year veteran of the pop culture business, and has managed companies that have sold over $1 billion in retail value of pop culture products as CEO of Capital City Distribution and Next Planet Over.

Nick Harris

A 12-year veteran of the film and television rights biz, Harris began at AP Watt Literary Agency based in London, then moved to Los Angeles in 2006 to join Rabineau Wachter Sanford Harris (RWSH) as a partner before moving to Mosaic, where he repped authors, graphic novelists, and comic book creators. Harris is now co-head of Media Rights at ICM.

Rick Jacobs

Rick is a producer and manager based at Circle of Confusion. Rick is currently developing
Inherit the Earth
based on the IDW Publishing graphic novel
Zombies vs. Robots
with Michael Bay at Sony, Antwerp based on a
Wired Magazine
article with JJ Abrams at Paramount, and Ten based on the Graphic Novel from BOOM! Publishing with Peter Cornwell (
Haunting in Connecticut
) directing and Ice Cube starring. Rick also represents a number of intellectual property creators including IDW Publishing (
30 Days of Night
), Top Cow (
Wanted
), Interplay Games, and four time
National Magazine
award winning journalist Joshua Davis. He has sold numerous high profile properties into Film and Television including
Locke & Key
,
World War Robot
, and
Deep Sea Cowboys
. Previously, Rick worked as vice president of production at Collision Entertainment overseeing the film adaptation of projects, most notably Max Payne.

Edward Lang
Edward Lang is a seasoned veteran in the digital media space, with over 15-years of experience. As CEO of Panelfly Inc., Lang is focused on creating the ultimate cross-platform, multi-media digital fan experience. Previously, Lang was CEO of Mobicious, the creators of the popular SnapMyLife and Snap2Twitter branded consumer photo-sharing social media sites; was a Senior Vice President and GM at Playboy responsible for the global strategy, expansion and management of Playboy's international digital business; and has held positions focusing on digital business at Sony and AOL Time Warner.

Peter Levin
Peter Levin is the principal & CEO of GeekChicDaily.com & Nerdist Industries, covering all things popular culture. Additionally, Levin is principal and CEO of GYL, LLC, a technology development and investment portfolio focused on digital media companies & video game platforms. Levin serves as Executive Advisor to Rovio Mobile (Angry Birds) and Japanese media juggernaut Yoshimoto Kogyo, and serves on the Board of Directors for Sulake, Inc. (Habbo) and Electrified Games.

Alvin Lu

Senior Vice President and General Manager, Alvin Lu manages all aspects of the publishing business for VIZ Media, and shares the overall business responsibility with Ken Sasaki. Lu came to the company from the San Francisco Bay Guardian in 2000 as the editor-in-chief of its cult-renowned PULP manga magazine. Lu's career with Viz included stints leading the editorial and production teams during the manga boom of the '00s, on VIZ Media's animation production, and for VIZ Media's parent company in Tokyo, focusing on the international merchandise and television licensing business. Over his tenure he led an expansion of the business from being a niche publishing house to the leading graphic novel publisher in North America.

Heidi MacDonald
Heidi MacDonald is an award-winning pop culture writer and editor. Her website,
The Beat
, delivers daily news, commentary, humor and insight covering the world of comic books and was named one of the 100 Best Websites by
Entertainment Weekly
. As a comics editor she has worked on every character from Mickey Mouse to
Y: The Last Man
and her writing has appeared in the
LA Weekly
,
New York Magazine
and
Publishers Weekly
.

Michael Murphey

Michael Murphey is the founder and CEO of iVerse Media, LLC. Michael entered digital publishing in 2005, and founded iVerse in July of 2008. Since the company's first release in November 2008, more than 2.5 million applications that are powered by iVerse have been downloaded from Apple's iTunes App Store.

Calvin Reid
Calvin Reid is a senior news editor at
Publishers Weekly
with responsibility for comics and graphic novel coverage. He is also co-editor of
PW Comics Week
, the magazine's weekly e-mail comics newsletter.

Mike Richardson

President and founder of Dark Horse Comics, the award-winning international publishing house he founded in 1986. Mike is also the President of Dark Horse Entertainment, for which he has produced numerous projects for film and television. In addition to producing films such as
Hellboy II: The Golden Army
,
My Name Is Bruce
, and
The Mystery Men
, he has also produced films based on several of his own creations, including
The Mask
and
Timecop
. Mike owns a successful pop culture retail chain, Things From Another World, stretching from Universal's City Walk in Los Angeles to his hometown in Milwaukie, Oregon. Recent ventures include Dark Horse Digital, book publishing imprint, M Press, a toy division, Dark Horse Deluxe, and an award winning web-site TFAW.COM. Mike has written numerous graphic novels and comics series,
The Secret,
Living With The Dead
, as well as,
Comics Between the Panels
and
Blast Off
, two critically acclaimed books about pop culture. Mike lives with his wife Karie in Lake Oswego, Oregon.

John Rood
John Rood is the Executive Vice President of Sales, Marketing & Business Development for DC Entertainment at Warner Bros. DC Entertainment is the creative division charged with strategically integrating DC Comics, Vertigo & MAD publishing across Warner Bros. and Time Warner. From 2000-2010, John worked at The Walt Disney Company in the Disney/ABC Television Group. John received his MBA from The University of Texas and his BA from The University of Nebraska.

Bill Schanes

Bill Schanes is Vice President of Purchasing for Diamond Comic Distributors and is responsible for the company's product selection and vendor relationships. With over 40 years experience in comics retailing, distribution and publishing (He co-founded the legendary independent Pacific Comics, which published comics by Jack Kirby, Steve Ditko and Dave Stevens, among others.), Bill has been part of Diamond's Upper Management team for over 25 years.

David Steinberger

David Steinberger co-founded comiXology in 2007 as a grad student at NYU. Long time comic fan and passionate entrepreneur, David's inspiration for comiXology came from participating in NYU | Stern's 2007 Business Plan competition. David continues to believe developing a community is the best motivation for innovation, which has been the driving force behind comiXology's alternative direction. David Steinberger holds an MBA from NYU | Stern, a Masters degree from Manhattan School of Music, and an Advanced Certificate from Juilliard.

Anne Thompson
Born and raised in New York, Anne Thompson has been a contributor to the
New York Times
,
Washington Post
,
The Observer
, and
Wired
. She has served as film columnist at
Variety
, and deputy editor of
Variety.com
, where her daily blog, "Thompson on Hollywood," launched in March 2007. Anne was the Deputy Film Editor at
The Hollywood Reporter
, the West Coast Editor of
Premiere
, a Senior Writer at
Entertainment Weekly
, and West Coast Editor for
Film Comment
. She wrote the film industry column "Risky Business" for
L.A. Weekly
and the
Los Angeles Times
syndicate. A graduate of the Department of Cinema Studies at New York University, she has taught film criticism at USC and hosts the fall semester of "Sneak Previews" for UCLA Extension.

Mark Waid

Author and editor Mark Waid has, over the past 25 years, written every major character for every major comics publisher and has created several series of his own besides. Recently, as a former editor and publisher who has a great deal of inside information and insight on the print-publishing realities of the 21st century, he has become a stridently vocal and outspoken advocate of digital media and is currently developing his own line of digital comics.
Bob Wayne
DC Entertainment's Senior Vice President-Sales, is a native Texan who claims to remember the first comic he actually purchased--
Superman
#137--in 1960. He began selling comics in 1973, opened a store in 1980, and left Texas to work at DC in 1987. Wayne's team leads DC Entertainment's global publishing sales effort across various channels including comics retailers, bookstores, internet sales, subscriptions, international editions, DC Direct and digital comics.
More are being added regularly--check back here!